Where to stay
Choosing where you'll stay is important and will enchance your Ngā Tapuwae experience greatly.
Ieper, Belgium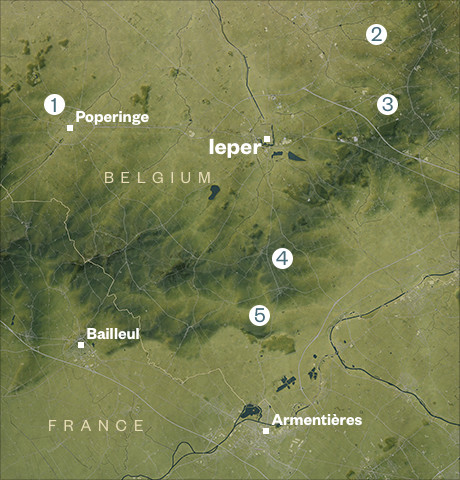 A small town, Ieper is easy going. Tourists come mainly for its First World War history sites and museums. A popular icon is the Cloth Hall, dating back to the 13th century, attractions include traditional Belgian beer, chocolates and markets.
1. Behind the Lines
Learn about the New Zealand effort in Ypres and Poperinge, find out about how the hospitals and transport systems worked, and see evidence of the soldiers' sacrifice in the many cemeteries.
Stream the Behind the Lines overview
2. Passchendaele
Find out about the preparations for the New Zealand and British assault, see the landscape over which the soldiers advanced, and learn how the Germans inflicted defeat upon the Allies - causing New Zealand's darkest day.
Stream the Passchendaele overview
3. Polygon Wood
The New Zealand Division wintered here after their defeat at Passchendaele. They prepared for an attack on Polderhoek Chateau and trained in anticipation of the impending German offensive.
Stream the Polygon Wood overview
4. Messines
See the remaining German bunkers where much fighting took place, hear about the painstaking preparations, the huge mine explosions - and the attack in which the New Zealanders took Messines village - resulting in complete victory.
5. Plugstreet
Learn about the soldiers' lives billeting near the town of Armentières and their interaction with locals. At Plugstreet, find out about life underground, and the battle at La Basseville.