While the British medical services had been chaotic at Gallipoli, those on the Western Front ran like a well-oiled machine. There were a few teething problems, but by the time the New Zealand troops arrived, these were resolved. In fact, by 1918 the British and Commonwealth medical services at the Western Front may have been the best anywhere in the world – whether military or civilian.
1917 was New Zealand's worst year for casualties, mostly because of the Third Battle of Ypres, and 1918 was not far behind it. However, both years would have been much worse if there had not been a well-organised medical system in place. Stretcher-bearers were a vital link in the process, and these men sometimes carried the wounded for kilometres to get them to regimental aid posts, where they could be assessed.
Read this audio story
Leslie Boyd's story
"We were all efficiently equipped to be able to give first aid if necessary, but it was not supposed for us as an advanced dressing station to do any operational or medical work. We were a receiving station where we collected them, held them over in our hospital until we could put them on the train the following morning to go back to the base hospitals. But on occassions it was necessary for our doctors to operate sometimes. To save life."
Those who were dying were cared for and made comfortable, while the wounded and sick were evacuated to a main dressing station and then, if necessary, taken by rail or ambulance to a casualty clearing station. The rail system was particularly valuable. During the Third Battle of Ypres, the 5th (New Zealand) Light Railway Operating Company evacuated more than 3,000 wounded in a single night.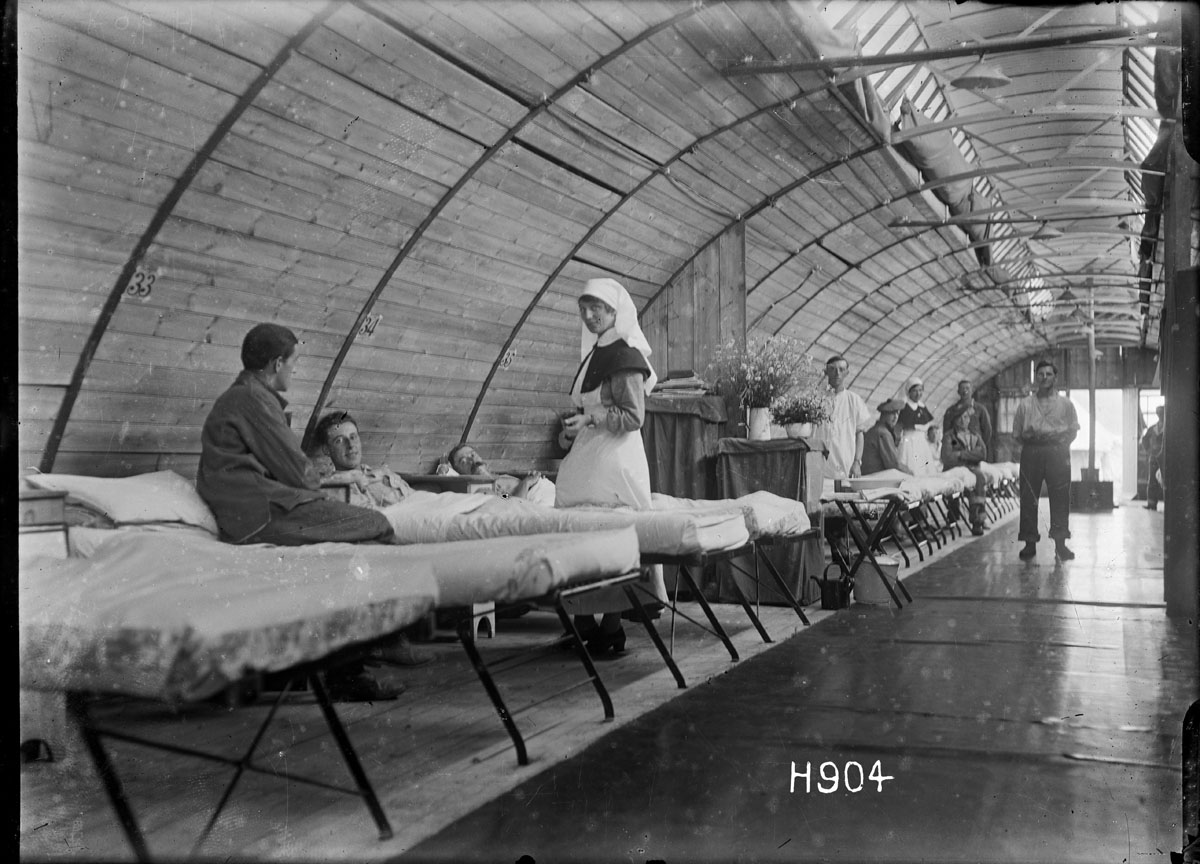 A nurse with patients at the New Zealand Stationary Hospital in Wisques, France, 17 August 1918.
Credits
Alexander Turnbull Library, Wellington. Ref: 1-2-013480-G. http://natlib.govt.nz/records/22842804
The worst cases were then taken to field and stationary hospitals that were deliberately set up a safe distance from the frontline. In May 1917, the New Zealand Stationary Hospital was at Hazebrouck, southwest of Poperinge. In September, it was moved to Wisques, because of bombing.