Although horses and bicycles were used in large numbers by both sides during the First World War, their usefulness for travel, reconnaissance and deliveries was quickly outmoded by the static trench warfare that settled in along the Western Front.
The Otago Mounted Rifles (OMR) were the only New Zealand mounted troopers to participate in Western Front fighting. Their role differed from that of cavalry because they dismounted to fight.
As masses of men, weaponry and supplies were moved to the frontline in preparation for the Messines offensive, the Otago Mounted Rifles and the 2nd Anzac Cyclist Battalion were involved in tasks such as anti-aircraft gun duties, burying communications cables, and traffic control.
Read this audio story
Harry Highet's story
"These cyclists, all with push bikes, all they did was... they belong to corps troops they call them, here there and everywhere, digging cables burying cables was a big thing, marvellous till Fritzy had his big push then we become a damn sight more hostile than the infantry. We were here there and everywhere, in the line and out again and somewhere else."
Messines was the first offensive on the Western Front where the OMR was tasked with a battle role. As planned, they were on standby for several hours after the battle began. They were to help consolidate infantry positions by riding through the II Anzac Corps line after the infantry had successfully fulfilled their objective. The OMR would then engage German troops, capture guns and gather intelligence.
The battlefield terrain was not suitable for a horse charge, due to the large amount of shell-craters and trenches, so the 2nd Anzac Cyclist Battalion created a pre-planned track behind the advancing infantry, before the OMR were due to begin. This track would allow the horses to move forward with relative ease.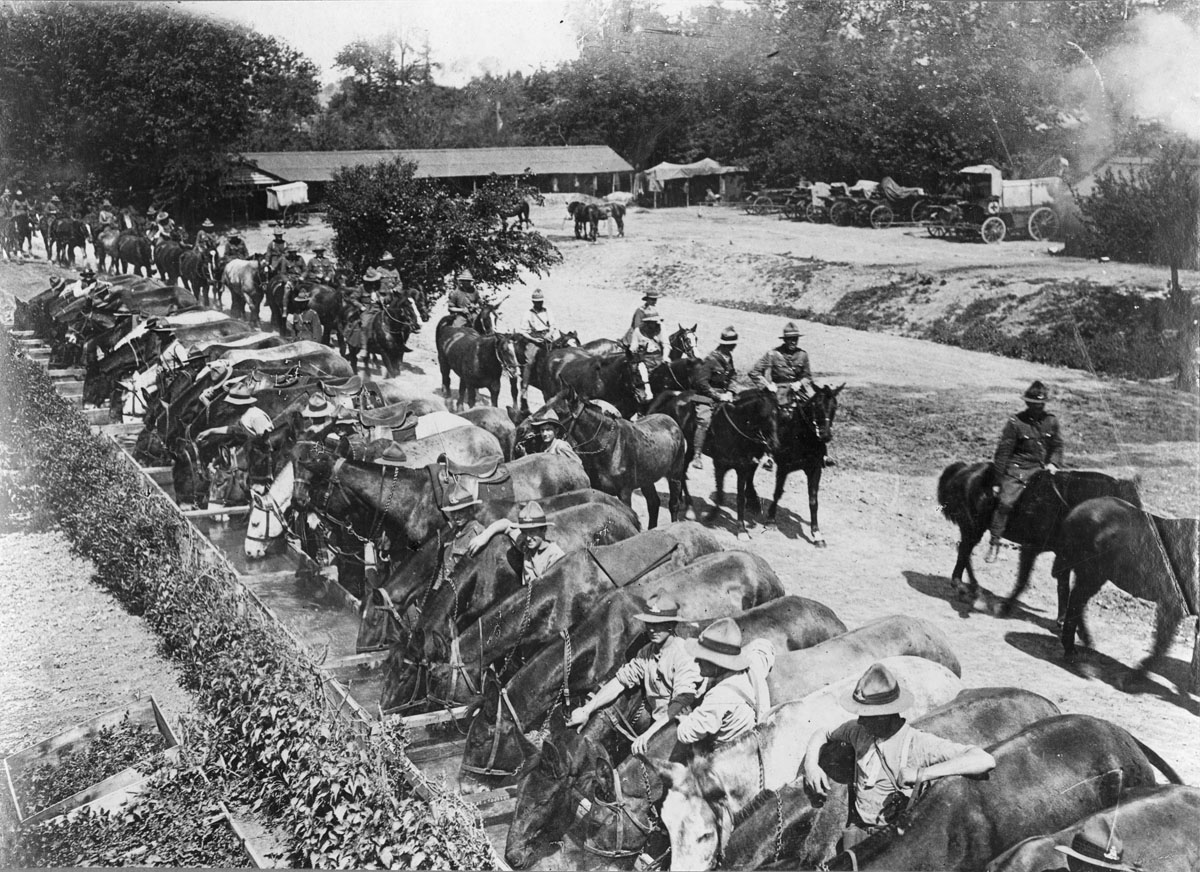 Horses and soldiers line up at an enormous watering station.
Credits
© Imperial War Museums (NZH 647)
The OMR pushed forward and carried out reconnaissance on the German positions beyond Messines Ridge. Although retreating, the Germans still had defensive positions intact, and they opened up with long-range machine guns. During the action, six troopers were wounded, one mortally. Their horses suffered further, and nearly 25 % of the mounts became casualties.
This mission by the Otago Mounted Rifles was the only mounted operation by the New Zealand Division on the Western Front.
Credits
Harry Highet, interview by Jane Tolerton and Nicholas Boyack 17 August 1988, OHInt-0006/61, World War 1 Oral History Archive, Alexander Turnbull Library, Wellington, NZ.