Military victories can often be attributed to careful planning, including training, rigorous preparation, and rehearsals. General Sir Herbert Plumer, commander of the British Second Army, and known for his thorough planning, was responsible for the attack on Messines.
Messines was a multi-faceted attack. It included carefully timed artillery barrages, destruction of German defences with mines, and a creeping artillery barrage that allowed troops to advance on the enemy positions.
Read this audio story
Preparation for the Messines attack
"Messines was perhaps the best-prepared attack made by the British during the First World War. Preparations were advanced in three main areas. First, longstanding underground mining activities in the area provided the possibility of a devastating blow. Mines would be exploded under the enemy's front line at the beginning of the attack. Second, artillery resources were amassed to soften up the target. The concentration of artillery would be the greatest to that point in the war. There was a prolonged bombardment of German positions on the ridge, intensifying in the final weeks before the attack. Much attention was paid to neutralizing German artillery. Finally, extensive works were carried out to provide suitable jumping off positions for the nine divisions that were to go forward. And huge quantities of supplies were stockpiled near the front."
The New Zealand Division was first sent to Flanders in early 1917, and, in the lead-up to the attack on Messines, they underwent weeks of training and preparation.
Everyone in the division knew the plan and objectives. Officers studied large-scale models of the area to memorise the terrain as well as the tactics to be used, while the infantry went through several battle rehearsals.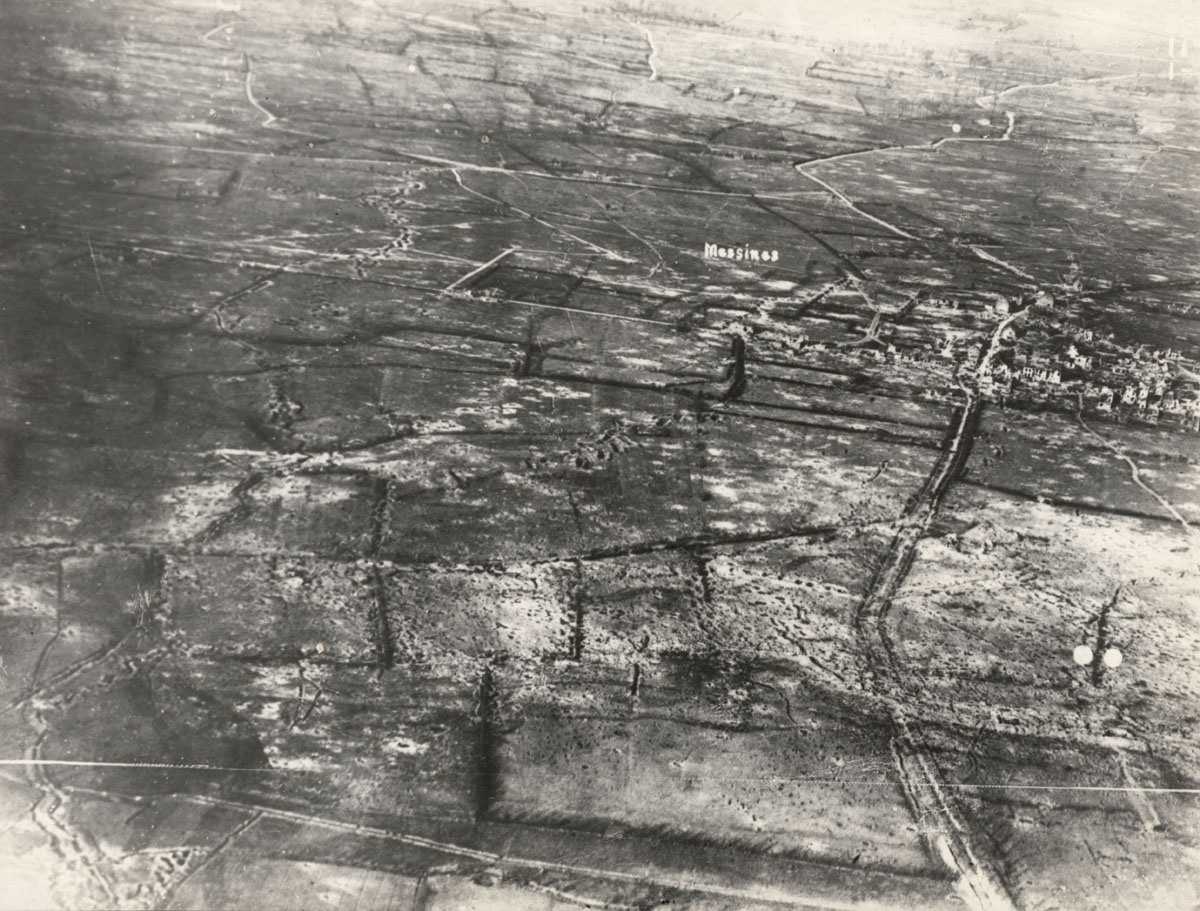 An aerial photo of Messines Ridge showing the other side of the hill, with Messines village and German communication trenches before the battle on 7 June 1917.
Credits
1992.760, National Army Museum, NZ http://nam.recollect.co.nz/nodes/view/6066
The New Zealand Division were tasked with a key role in the offensive: taking the village of Messines, which the Germans had fortified. They would then consolidate their position just beyond.
The planning and practice paid off, and the New Zealanders, along with other British and Dominion troops achieved Plumer's aims within hours of the battle beginning.
Messines was a success – a contrast to the disastrous campaign that the Anzacs had been part of at Gallipoli in 1915. Although the New Zealand Division suffered 3,000 casualties and 700 dead at Messines, morale among the Allies there was very high, while among the Germans, it fell.