Good morale was vital to the troops' performance, and army authorities knew this. They made every effort to keep the men's spirits high – from providing small luxuries like hot baths and clean clothes whenever possible, to encouraging sporting events, such as games of rugby and football.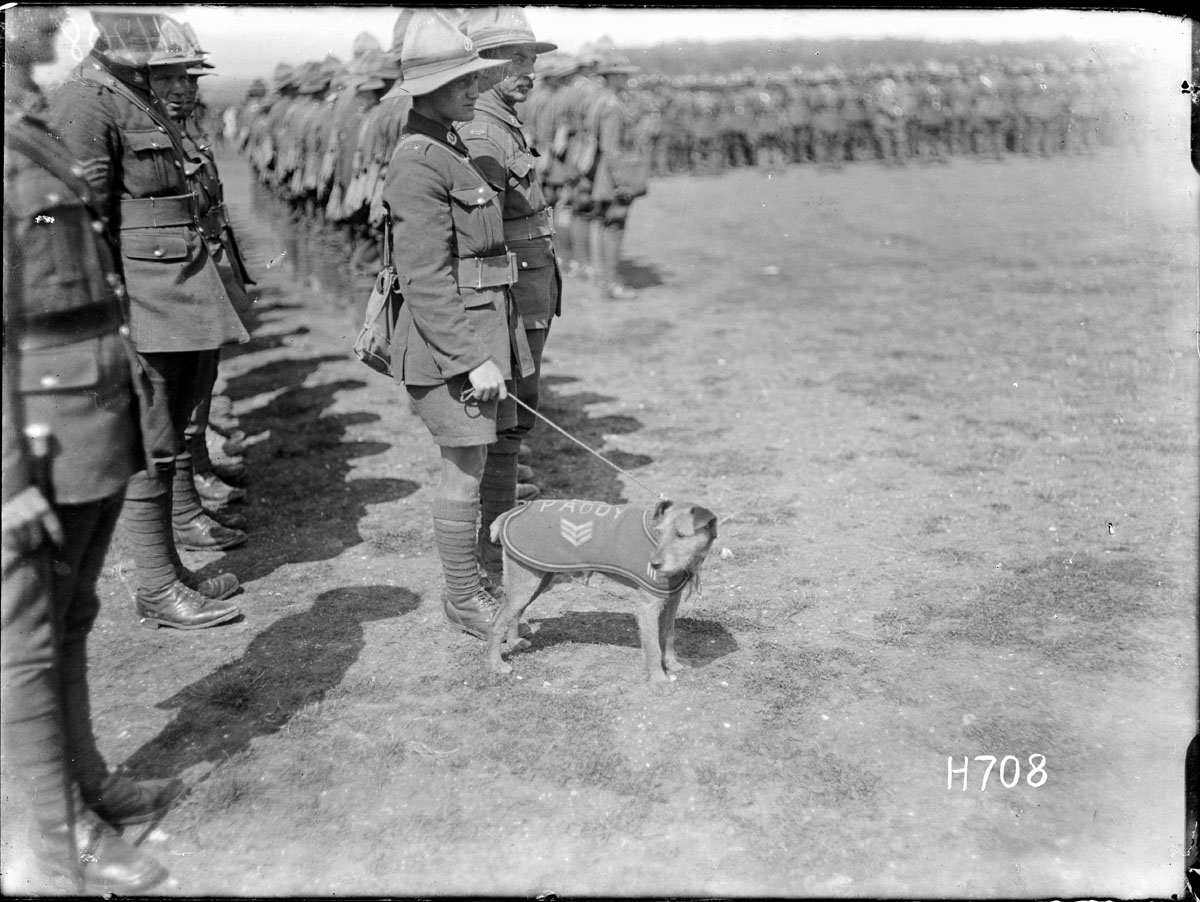 Paddy, the mascot of the Wellington Regiment, lining up for an inspection by Prime Minister Massey. Mascots helped to raise morale and provide comfort.
Credits
Alexander Turnbull Library, Wellington. Ref: 1/2-013312-G. http://natlib.govt.nz/records/23117989
The men also enjoyed staging and attending shows. In December 1917, the Otago Daily Times reported:
Cloudy and wet weather, with muddy roads and camps, have given place to a biting gale and frost, which have hardened the ground; but in spite of all discomforts, the morale remains high and the performers in the New Zealand Theatre are playing to a packed audience of 800. They crack impromptu jokes as some enemy shell wails past and bursts in an adjacent field.
The Young Men's Christian Association (YMCA) played an important role in morale-building, in numerous ways. They set up recreational facilities, offered hot drinks and cigarettes to soldiers near the front, and provided the men with letter-writing stationery.
The men always looked forward to regular deliveries of mail from home.
Of course, external factors had a huge impact on morale. A success in battle – or even hearing about one – could boost spirits greatly. On the other hand, terrible weather, suffering a defeat, or hearing news of one, sent spirits plummeting. At times like those, motivating activities were more important than ever.
Read this audio story
Gordon Neill's story
"After Passchendaele we were shifted over to another sector called Polygon Wood and Polygon Wood was absolutely strafed, perpetual shell fire dropping on it, a misery of a place. It was well within the Germans' gunfire range and they plastered it, and again we had heavy casualties there."
A little rum helped, too. Along with their food, soldiers received a daily rum ration, often mixed with tea. Before, or straight after battle was considered the best time for this. According to one soldier's account, it was 'rum and a sense of humour that kept the British Army's morale intact and largely helped to win the war.'
Credits
Gordon Neill, interview by Jane Tolerton and Nicholas Boyack 17 August 1988, OHInt-0006/61, World War 1 Oral History Archive, Alexander Turnbull Library, Wellington, NZ.