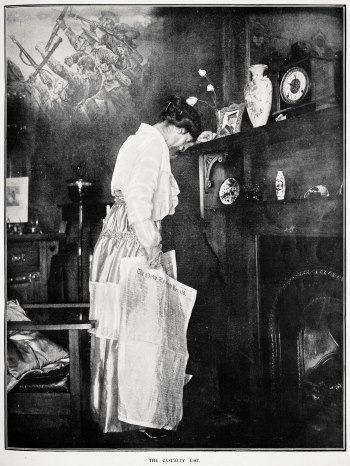 In May 1915 the New Zealand newspapers broke the news of the Dardanelles landings. On 3 May the first reports of casualties appeared in New Zealand, with the first official lists published on 4 and 5 May. Every province posted a list of casualties from the 'Battle of the Landing'.
The first wounded to reach Egypt sent private cables home to inform their families, and many of these cables were from soldiers who had not yet been officially declared wounded. These messages sometimes referred to other men killed or wounded, whose fate had not yet been reported in New Zealand. The Defence Department and the government were inundated with inquiries from parents and relatives.
Read this audio story
Mary Aitken's story
"So there was very few families who didn't have someone away, and there was always the dread of seeing this telegraph boy coming in the gate – it would be bad news."
On 5 May, Prime Minister William Massey tried to reassure the country in a speech at Otorohanga that everything possible was being done to prepare correct lists of the killed and wounded. He reminded the nation that with so many names involved, great care was necessary to verify details before informing families.
By mid-May, casualties published in New Zealand totalled 1162, but at Anzac Cove, New Zealand casualties were already double that.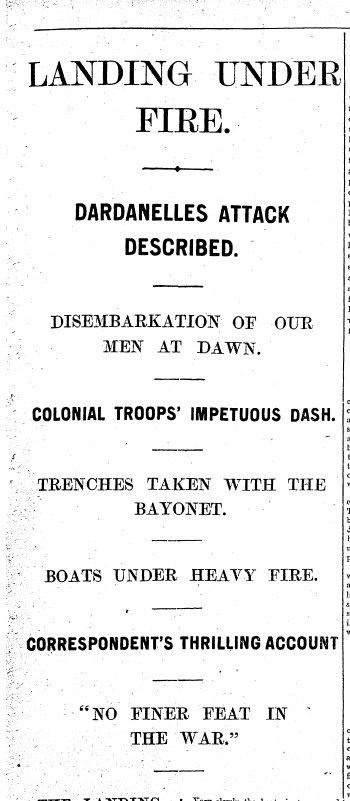 Government officials could not meet the growing demand for information as private cables continued to arrive. Sections of the public began to suspect that the government was withholding information as the casualty numbers were so high. But the great uncertainty and anguish amongst the New Zealand public over the Gallipoli landing was also mixed with pride. Newspaper editorials told of our gains and successes, and played down the number of casualties.
On 8 May, New Zealand newspapers published an account of the dawn landing by the Australians, but wrongly stated that New Zealanders were involved. Back in New Zealand, people believed this to be the truth. The country reacted with pride, and recruitment numbers soared.
New Zealand's official war correspondent, Malcolm Ross, landed at Gallipoli in June. He and his Australian counterpart, Charles Bean, tried to spend as much time as they could near the front line. However, due to censorship and the expense of cabling news back home, there was considerable delay in Ross's dispatches. Readers became unhappy as the reports were not up to date, and this led to some newspapers withdrawing from the agreement to print them. Because they enjoyed privileges and tended to report only positive versions of events, Malcolm Ross and other correspondents encountered some resentment among the men at Gallipoli.
Credits
Inline images
Receiving the casualty lists - The front page of the Auckland Weekly News on the 27th of July 1916. Sir George Grey Special Collections, Auckland Libraries, AWNS-19160727-35-1
An account of the Landing published in the Press, 8 May 1915. DARDANELLES ATTACK DESCRIBED. Press, Volume LI, Issue 15273, 8 May 1915, Page 9. See full article on PapersPast.
Audio
Mary Aitken, interview by Grant Rule, 1994-1995, OHInt-0616/02, Greater Green Island oral history project, Alexander Turnbull Library, Wellington, Otago Settlers' Museum, Dunedin.