It was at the Somme, on 15 September 1916, that a fearsome new kind of weapon was first used – the tank.
The British and French had, separately, been researching and developing armoured vehicles, based on the Holt tractor caterpillar system. The British Landships Committee got there first, and crews began training in – and testing – prototype tanks in early 1916.
The British tanks were built as 'male' or 'female'. The male models were armed with two six-pounder cannons and three Hotchkiss machine guns, while the female models had four Vickers machine guns and one Hotchkiss. Tanks needed a crew of eight men – four to handle the steering and drive gears, and four to operate the guns.
Forty-nine tanks were sent to the Somme in the hopes that they would become a game-changer, giving the Allies a much-needed breakthough on the Western Front before winter set in.
Read this audio story
Thomas Lane's story
"We were about 30 or 40 yards from the German trenches and we got held up, couldn't go any further and the officer he came round and said 'Stay where you are boys, there's a surprise coming' and when the tanks come they were big lumbering things, they were clanking and you could hear them a mile or more before we saw them. And they came up and they went through us and up to the German trenches and of course they could straddle a trench with their Caterpillar tracks, and they go over the top of the trenches and they even pushed some of the buildings over and some of the trees with snipers in them, they pushed them over."
Private Cecil Malthus wrote about the first time the New Zealand Division saw the new technology: 'The first sight of these fearsome creatures lumbering into deep shell-holes and clambering out again made everyone laugh with delight and triumph. We had no doubt they would prove invincible.'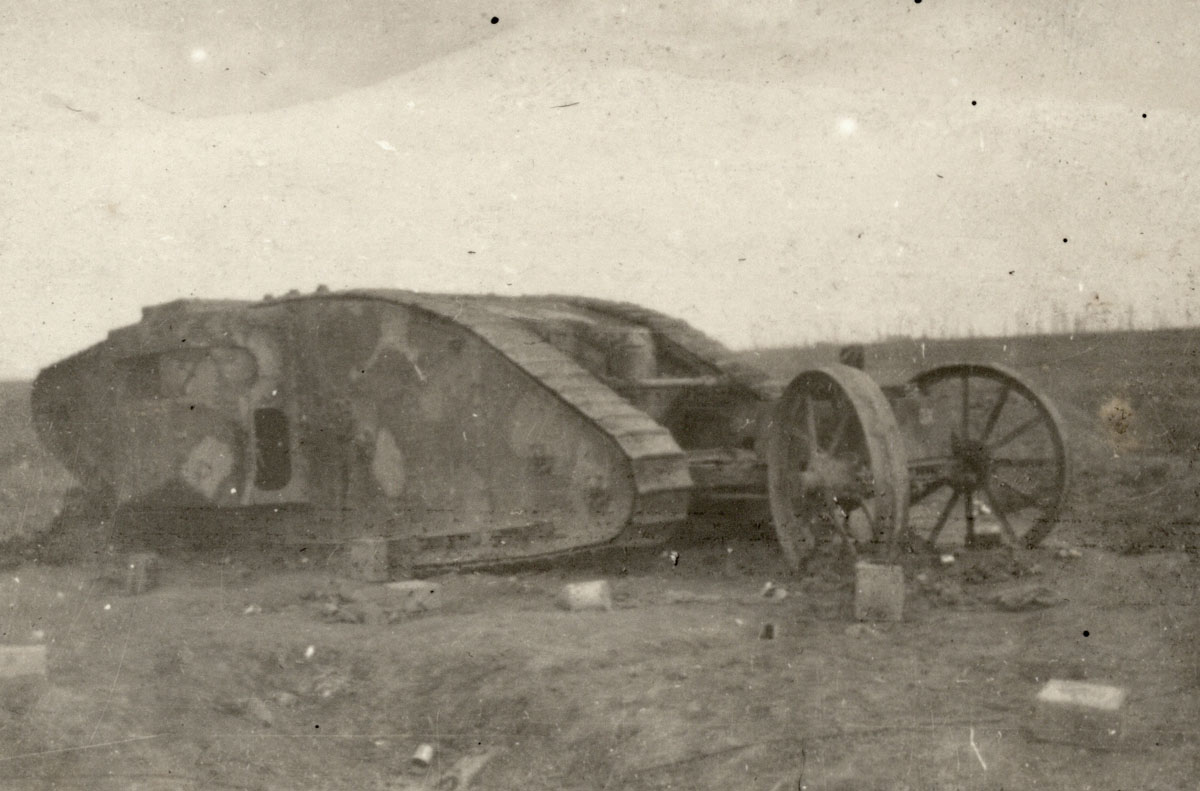 A Mark I tank with its original rear steering wheels. 1916.
Credits
1992.760, National Army Museum, http://nam.recollect.co.nz/nodes/view/6136
Ultimately the first tanks were something of a disppointment. They were not mechanically reliable, and only 21 of those sent over actually made it into battle. They continually got bogged down in the copious Western Front mud, and because they could only travel at 3.2 kilomteres an hour, they were vulnerable to artillery.
The tanks did, however, help the New Zealand Division capture the town of Flers – moving alongside the men, and pushing through wire and machine-gun nests that the previous Allied artillery fire had failed to touch. Their spectacular appearance also boosted morale.
Despite the first tanks not living up to all expectations, their potential was clear. The British, as well as the French, continued to develop them. The Germans also started designing their own, although without the same success as their enemies.
Credits
Thomas Lane, interview by Jane Tolerton and Nicholas Boyack 17 August 1988, OHInt-0006/61, World War 1 Oral History Archive, Alexander Turnbull Library, Wellington, NZ.