The impact of the huge New Zealand death toll at Passchendaele on 12 October 1917 was far reaching.
New Zealand lost approximately 845 soldiers in just a few hours, and suffered some 3,700 casualties throughout the day. Passchendaele soon became a byword for the horror of the First World War. In terms of lives lost, it remains the single most disastrous day in New Zealand history.
Passchendaele was the New Zealand Division's first major defeat, and morale amongst the men fell dangerously low. Many of the men grieved for friends and fellow soldiers, and felt frustration and anger at the British High Command for pushing ahead with the seemingly pointless attack.
Read this audio story
Sidney Stanfield's story
"People were wildly enthusiastic over the war at that period, up until well on in the war up to perhaps Passchendaele 1917 when the big casualty lists, you know, a whole column in the newspapers."
Men who'd taken part in the battle expressed their depression in diaries and letters home, describing the loss of life and the terrible conditions. However, the distance of New Zealand from the Western Front meant that it took several days for the news to reach home.
At first, New Zealand newspapers described the attack as 'another blow' and early reports optimistically described the artillery barrages and fighting without any indication of the mounting casualties.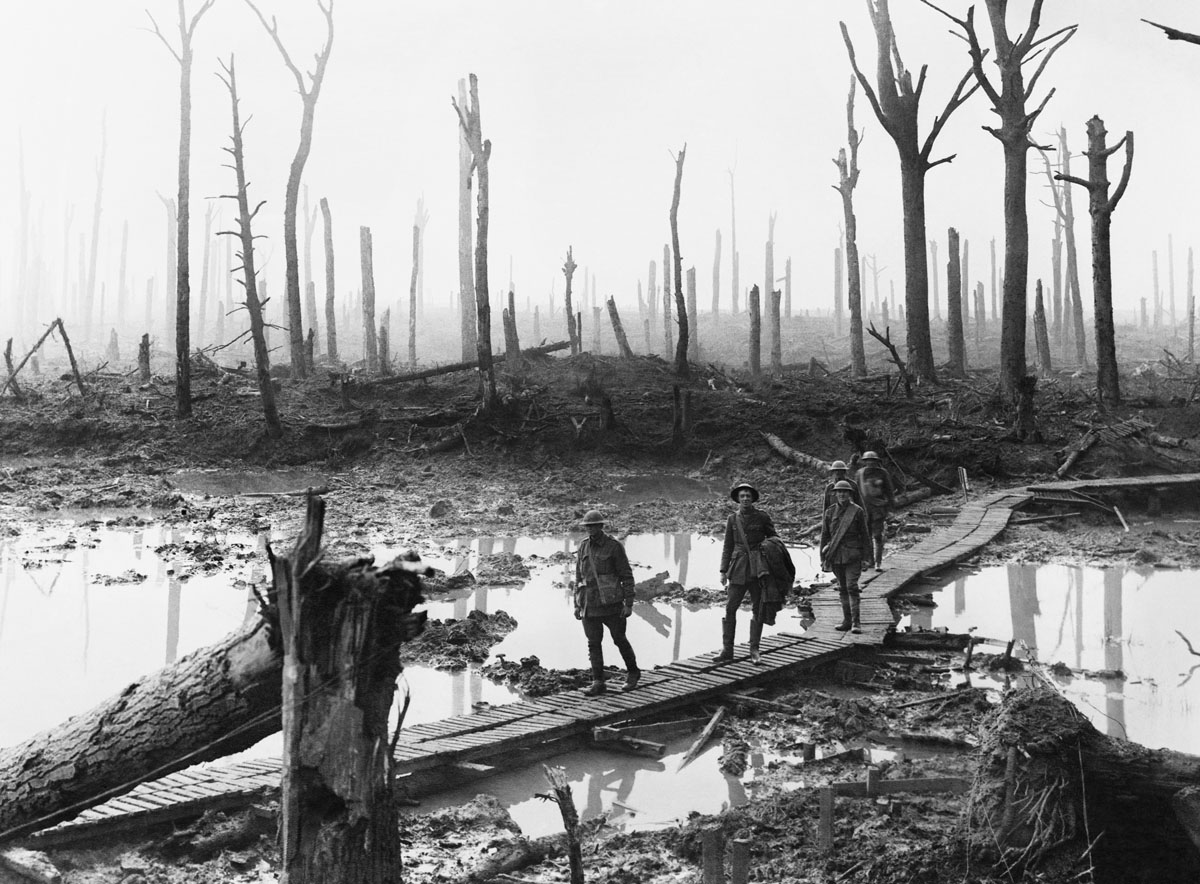 Australian troops walking along duckboards at Chateau Wood in the Ypres Salient, 29 October 1917.
Credits
© Imperial War Museums (E(AUS) 1683)
Once the defeat became reality and the death toll was officially published, horror and shock spread throughout New Zealand, and the massive impact of the war was felt. Families – and communities – struggled with loss, and their grief and mourning was often protracted. Not all the dead were immediately accounted for, and some were never officially identified.
Passchendaele can truly be called New Zealand's darkest day.
Credits
Sidney Stanfield, interview by Jane Tolerton and Nicholas Boyack 19 May 1988, OHInt-0006/74, World War 1 Oral History Archive, Alexander Turnbull Library, Wellington, NZ.