Initially, the United States wanted to stay out of any war in Europe. However, when they saw that an Allied victory was in their national interest, they used public outrage at the German sinking of several American ships to mobilise support for participation. President Woodrow Wilson finally declared war on Germany on 6 April 1917.
From June, the American Expeditionary Force began to arrive on the Western Front, and although the Americans were an independent fighting force, individual units were temporarily attached to other Allied troops for training and acclimatisation.
Read this audio story
Thomas Eltringham's story
"We were joined by a company of Yanks. A company of Yanks joined our company, our battalion, and one platoon of theirs was attached to our company – the Haurakis – and one platoon to each company in the battalion and we were to teach them trench warfare and I tell you we had... they were quite a new, brand new from America, that was their first time in the line and they were pretty keen and we had quite a lot of fun with them actually. "What sort of people were they? Were they enthusiastic or brash?" Oh yes, they were as keen as mustard, they were quite keen as a matter of fact one of them nearly shot me, as a matter of fact."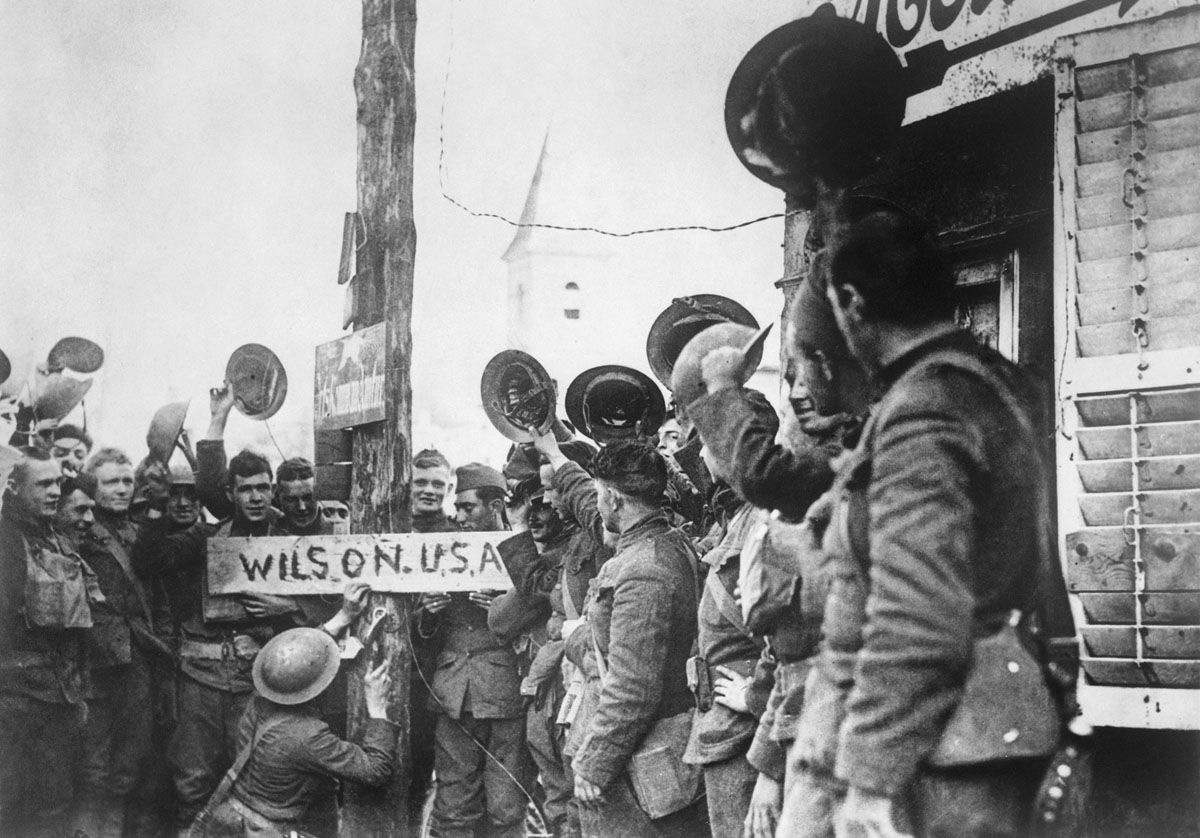 American soldiers rename a German street sign in the St Mihiel salient on the Western Front. 1917.
Credits
© Imperial War Museums (HU 56409)
In June 1917, there were around 14,000 American troops in Europe, and by May the next year, there were one million. A month after that, Corporal Joseph Herbert Hasard Henson of the Wellington Infantry Battalion wrote,
'There is a great number of Americans round the town and we were in conversation with several of them. They are an excellent stamp of manhood, of fine physique and should make fine fighters. They have been over about a month and practically all have seen service in Mexico. It's heartening to see them here and know that millions more are available.'
In practice, the Americans' inexperience with modern warfare showed, and they launched a number of inept and sometimes disastrous attacks. However, their sheer numbers bolstered the Allied effort, and contibuted to victory a few months later.
Credits
Thomas Eltringham, interview by Jane Tolerton and Nicholas Boyack 02 October 1988, OHInt-0006/29, World War 1 Oral History Archive, Alexander Turnbull Library, Wellington, NZ.