The First World War required vast systems to be rapidly put in place – systems that spanned the globe, moving soldiers across oceans and borders, between training camps, battlefields and medical facilities.
The New Zealand troops were first put through a 16-week infantry-training programme at home – usually at Trentham, in Upper Hutt; Narrow Neck in Auckland; or at the largest training camp in Featherston. Their subjects included physical fitness, musketry, bayonet-fighting, individual training and night training. They were then shipped to the New Zealand training camp in Bulford, England, known as Sling Camp, which offered further training in attacking, defending, hand-to-hand combat, trench digging and repairs.
As Sling Camp reached capacity, individual units went to other camps around England for more specialist training. The New Zealand Machine Gun Corps trained at Grantham; artillery units and the Medical Corps at Ewshot; signallers at Stevenage; the New Zealand Rifle Brigade at Brocton; and the engineers, tunnellers and Māori reinforcements at Christchurch in Dorset.
In France, the largest New Zealand camp was the New Zealand Infantry and General Base Depot at Étaples. All New Zealand troops on their way to France and Belgium went through a short, intensive training course there, whether they were new recruits or veterans returning from hospital.
Meanwhile, to care for the tide of sick and wounded New Zealand soldiers coming from the Western Front, a complex medical system was set up, with centres in France, Belgium, England and New Zealand.
Read this audio story
Sidney Stanfield's story
"I was still in bed in Brockenhurst Hospital, because I'd had my leg badly injured, broken, with a hunk of shrapnel. And we did see in the papers a couple of days beforehand where things were building up to something like that, but I remember a chap getting into the spirit locker, 'course the nurses went wild, they went wild straight away with excitement. You couldn't expect anything else 'cause they were very hard worked in a big ward like that ward in Brockenhurst. It was all gun shot wounds, the whole ward and when I landed in there from France across the Channel from Le Havre to Southhampton up to Brockenhurst in the hospital train – lovely thing, nice white sheets, everything you know – I didn't realise till them how hard these women worked."
There were casualty clearing stations near the front, and base hospitals further back. Soldiers who needed further medical attention were ferried to England, to the New Zealand hospitals at Brockenhurst or Walton-on-Thames. A third hospital – Codford – cared for sick and injured troops from Sling Camp.
Convalescent hospitals were established at Hornchurch and Brighton, and soldiers unfit for further active service were sent back to New Zealand military hospitals or to veterans homes and hospitals.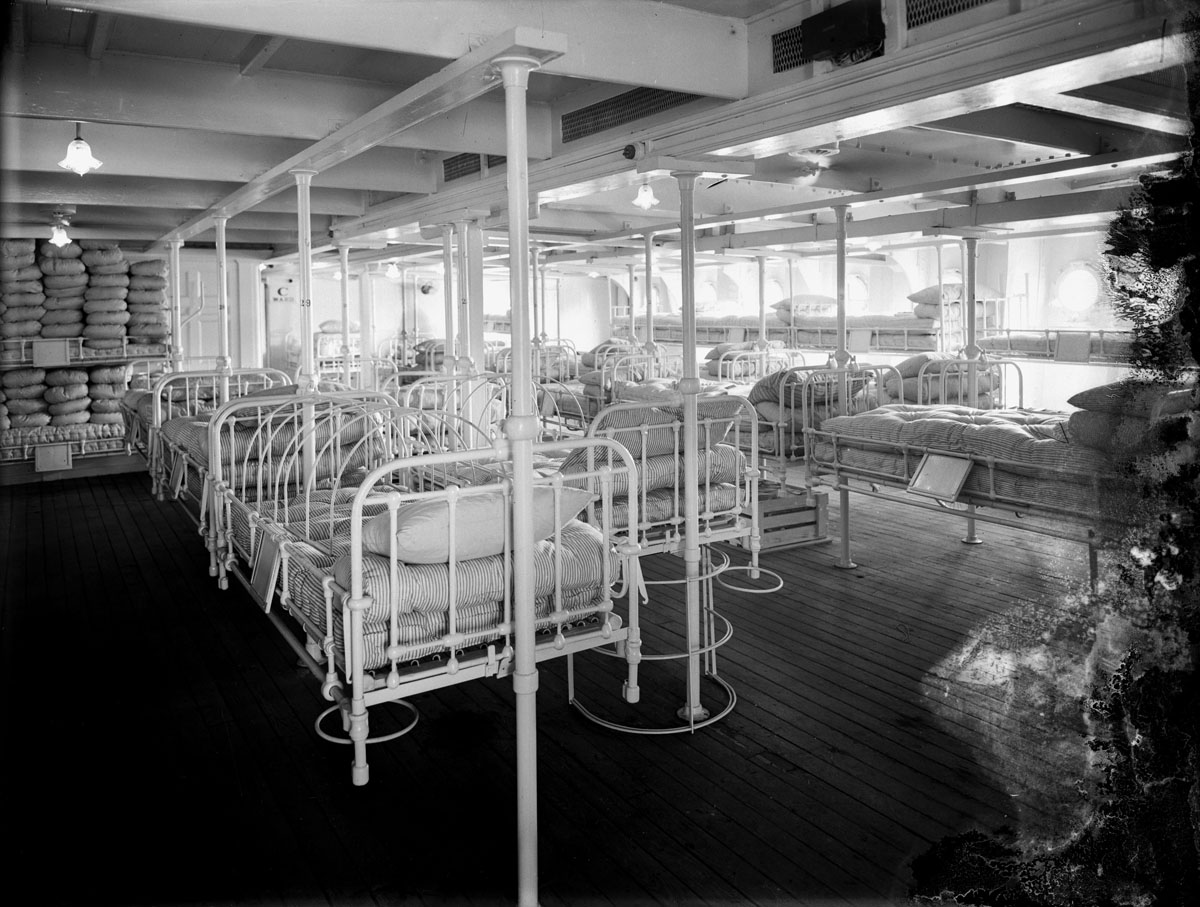 Empty beds on the 'Maheno' a New Zealand Hospital ship.
Credits
Alexander Turnbull Library, Wellington. Ref: 1/1-002220-G. http://natlib.govt.nz/records/23179980
Numerous commercial vessels were commissioned to transport the troops from place to place. However, their voyages could be dangerous, as German submarines sometimes cruised the waters. In 1915, the SS Marquette was sunk by a German U-boat – and among the 167 lives lost were 10 members of the New Zealand Army Nursing Service.