Mining in warfare dates back to antiquity – there is evidence that it was employed by the ancient Egyptians, Persians and Romans.
An important tactic during the First World War, it became a particularly vital part of the Allies' preparation for their assault on the Messines Ridge on 7 June 1917. Much of the success of this offensive rested on expert mining.
Beginning in early 1916, Australian, British and Canadian tunnellers dug a series of shafts underneath German positions around Messines. They connected these shafts with tunnel galleries that were between 122 and 658 metres long and 17–42 metres below ground.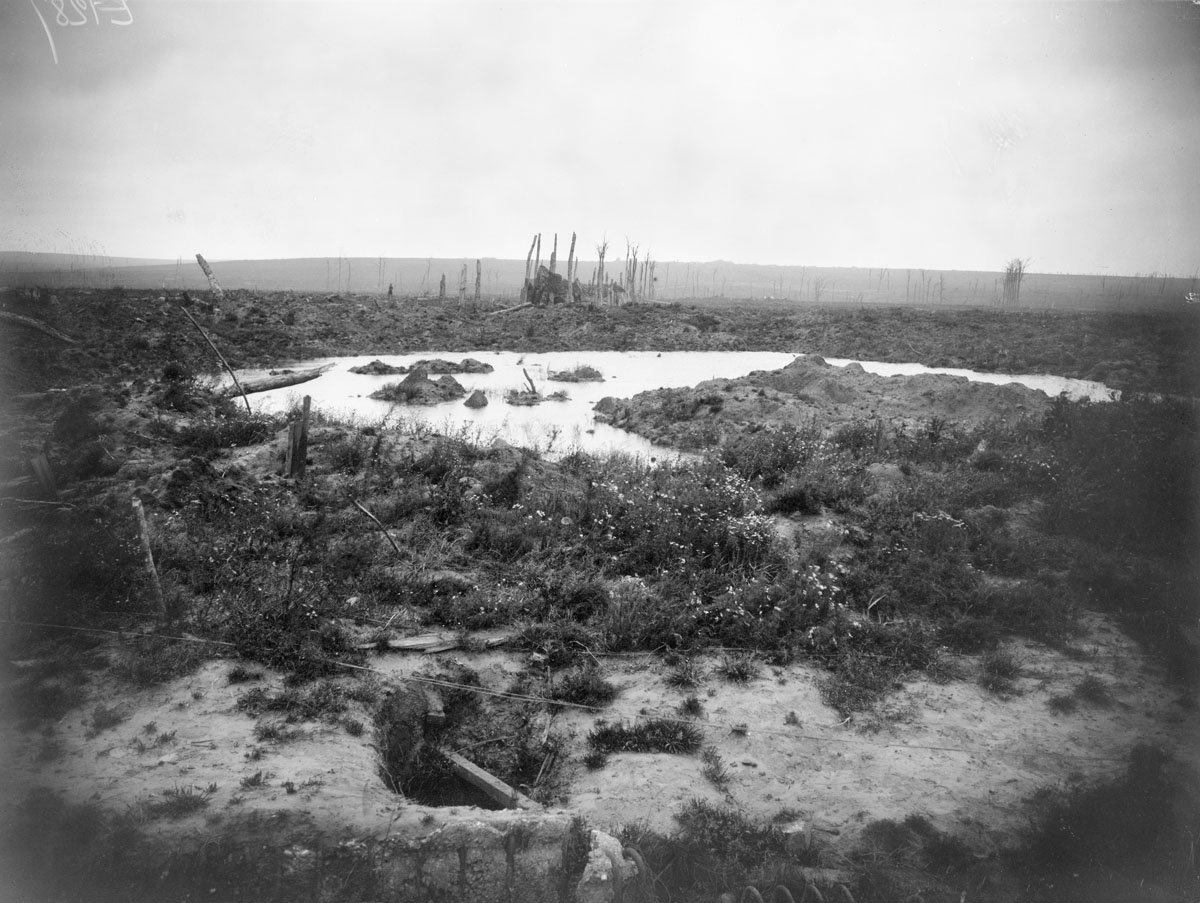 A weater-filled crater, five months after it was exploded near St Ives. This was the southernmost mine explosion, detonated by the British at the start of the Battle of Messines.
Credits
Australian War Memorial Museum E01287 (CC BY-NC 3.0 AU)
The shafts were packed with explosive charges weighing between 6,700 and 43,000 kilograms each. The packing alone took months.
Preliminary artillery bombardments on the German positions had already taken place, but it was the detonation of the explosives, in the early hours of 7 June, that signalled the battle's start.
Within 20 seconds, 19 mines had successfully exploded and only two had failed. These massive explosions killed thousands of Germans and caused disarray on their frontline, with many German positions completely destroyed.
Read this audio story
Joseph Dwyer's story
"The Canadian tunnellers - they tunnelled and tunnelled and tunnelled and they went a terrific distance and there was a terrific concentration of artillery. Hill 60, the Germans, the country was so flat the Germans could watch every action in daytime that was happening and all sort of flat, the country was so flat and you couldn't move troops in the daytime so they finally blew the hill to pieces, put a terrific charge under it and we went over straight afterwards then and the Germans were very demoralised, they were easily captured."
After that, the New Zealand Division, alongside others in the II Anzac Corps, passed through the Messines Ridge, taking out the remaining defenders. They then quickly achieved their objective, capturing the village of Messines, and consolidating the area around it.
Credits
Joseph Dwyer, interview by Jane Tolerton and Nicholas Boyack 17 August 1988, OHInt-0006/61, World War 1 Oral History Archive, Alexander Turnbull Library, Wellington, NZ.