Read this audio story
The landing at Anzac
"I believe that navigational error caused the change – that one of the midshipmen directed his boat in the wrong direction, or drifted north. And the other boats then aligned themselves with him and eventually they all landed on Ari Burnu Point or just into Anzac Cove. To me, the important evidence for this wrong landing point is the generals' comments after the landing. General Birdwood wrote in his report that the hand of Providence had been present when the landing took place, because if they'd landed at the original planned site, he said the casualties would have been terrible if they'd managed to get ashore. Now why would he say that if he knew there had been a change of plan at the last minute? He would have been taking kudos for making the change that got them ashore. Instead he says. 'No, we were lucky that we accidentally landed at Anzac Cove.' General Godley, the Australian and New Zealand Division Commander, made a similar comment in a letter he wrote early in May. Two of the three highest ranking generals believed that the landing should have taken place south of Hell Spit, and I don't believe that a change would have been made without those generals knowing about it. And if it had taken place without them knowing about it, then surely there would have been some recriminations amongst of the subordinate officers, perhaps some sackings, because you don't change the general's plan without expecting consequences. And they'd have to have very good reasons."
When New Zealand soldiers arrived at Gallipoli, the first hurdle they encountered was the difficult terrain.
The hills behind Anzac Cove were steep and rugged. 'I had more wind than most after climbing Rangitoto for four years,' wrote Lieutenant Spencer Westmacott of the Auckland Infantry Battalion, about his experiences on 25 April 1915. As the New Zealand soldiers pushed inland up 'steep and scrubby slopes with no track', they found it difficult trying to negotiate such terrain under fire from the Ottoman Army. Anzac casualties were heavy on the first day.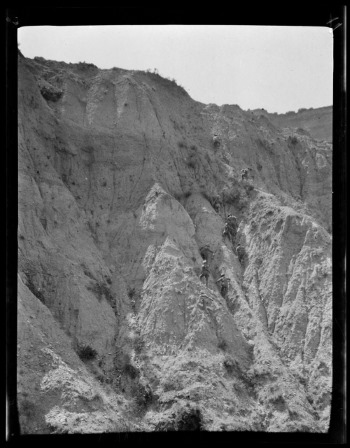 At the time of the invasion, Gallipoli was covered with rough scrub and trees, though, according to locals, lower and less dense than today. The vegetation afforded the Ottoman soldiers protection and provided cover for the Anzacs. The Anzac soldiers knew their enemy was there, but often couldn't see them. Some New Zealanders were killed or wounded without having ever seen a Turk.
The Anzac perimeter – the area occupied by the New Zealanders and Australians – was less than six square kilometres. No place within the tiny perimeter was safe from enemy fire, not even the water where soldiers used to swim. Turkish sniper fire was a constant danger. In places like Quinn's Post, a moment's lack of concentration could be fatal. Shells from the enemy could land in many places inside the perimeter. Shrapnel shells, which discharged hundreds of little steel balls, were a threat to men everywhere, even in deep gullies. The New Zealand soldiers built 'bivvys' – dugouts in the hillside – in order to protect themselves from shells and shrapnel.
Read this audio story
Henry Lewis's story
Did you remember swimming? Did you get down to the beach to swim?
"I mean we could until the Turks spotted what was going on, and they had one gun at Anafarta, that was a fairly big gun. She could shell the beach, and well, when they first started shelling the beach you'd make for the shore. You'd see a few blokes in the water, fellows who were hit. Some made it to shore, some didn't, some did. So it meant that you'd have to go down at night. So we used to go down in the dark. The Turks knew what was going on, so they'd shell at night. We had stacks of biscuits, cases of biscuits, they were stacked high on the beach with openings in between, and when the shelling started we'd come ashore and dive in between those boxes of biscuits for shelter from the shelling."
The chance of being hit by a bullet or shell at any time took an enormous physical and psychological toll on Anzac troops at Gallipoli, both in the front line and in support areas. 'Stray bullets were zipping all around,' wrote Westmacott, 'but our real welcome was a field gun shell which screeched from the right just over our heads.' Towards the end of July, the danger of sniper fire and shrapnel became so serious that many troops abandoned swimming by day and instead bathed at night.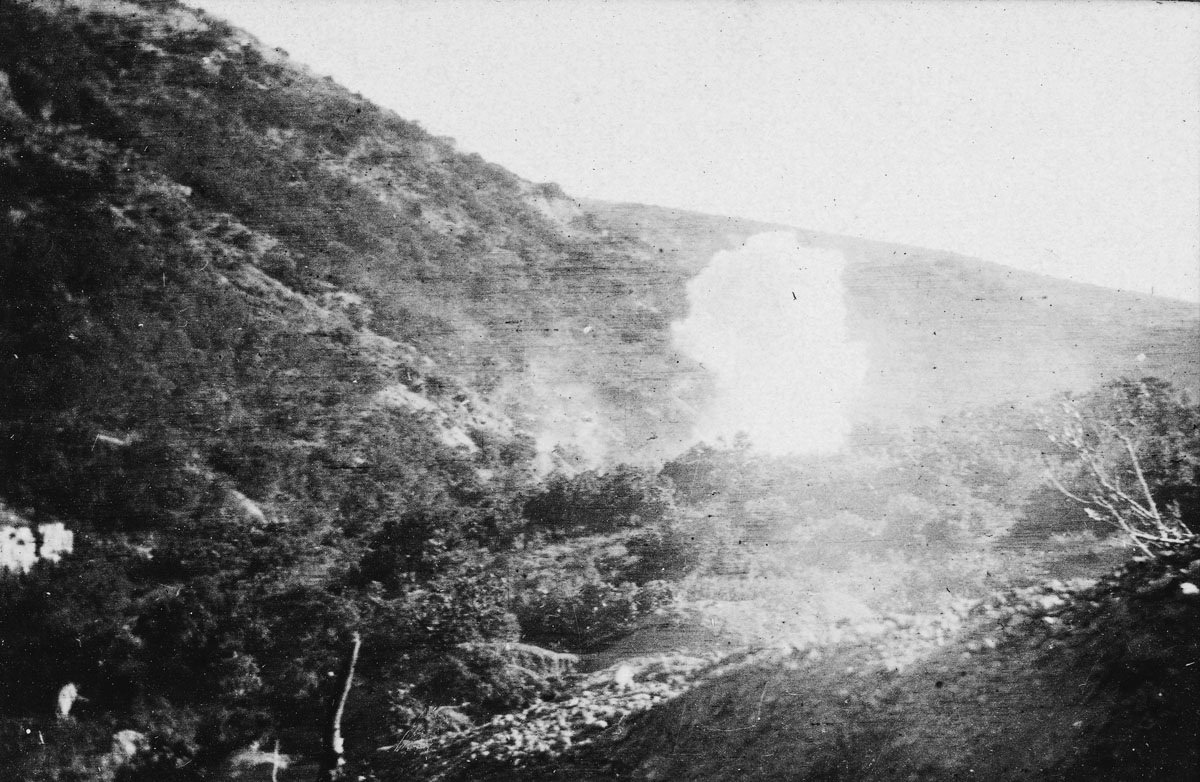 A shell bursting over a valley.
Credits
Shell bursting in a valley, Gallipoli. Snapshots in camp and around London album. Ref: PA1-o-471-21-2. Alexander Turnbull Library, Wellington, New Zealand.http://natlib.govt.nz/records/22685864
At Gallipoli, shrapnel shells were a common weapon. These shells contained about three-hundred metal balls. After being fired, they would explode in mid-air, raining down hundreds of the balls onto the soldiers below. 'Shrapnel screamed over our head and we would seek cover lying close to our ground,' wrote Private Robert Steele of the 15th North Auckland Company.
James Jackson, a member of the New Zealand Medical Corps, had a close shave with shrapnel when landing at Gallipoli: 'This shrapnel is very deadly stuff if it catches anyone in an exposed position and no position is more exposed than an open rowboat out on the water. It was our first experience of it and I can tell you we did not like it.'
Credits
Inline image: Australian troops are being given climbing instructions on a cliff face in Gallipoli. Gallipoli, Turkey. Read, J C :Images of the Gallipoli campaign. Ref: 1/4-058065-F. Alexander Turnbull Library, Wellington, New Zealand. http://natlib.govt.nz/records/23053617
Audio: Pte Henry Lewis, 1999.2959.1B, National Army Museum, NZ