The Passchendaele offensive, or the Third Battle of Ypres, took an increasingly disastrous turn for the Allies in October 1917 – with tens of thousands of men lost and only very small gains made. The Allies had cleared the way for the offensive by capturing the Messines ridge in June. There, a carefully planned assault and coordinated artillery had led to rapid victory. However, their hopes of building on that success at Passchendaele were dashed.
The New Zealand Division first took part in the Passchendaele offensive on 4 October. This initial attack was successful and resulted in the capture of positions at Gravenstafel. However, further attacks by the British and New Zealanders on 9 October and 12 October were met with crushing defeat. This failure had a profoundly negative effect on the division.
Overall, the Third Battle of Ypres cost New Zealand over 18,000 casualties with around 5,000 killed. The British Army, including Dominion soldiers, suffered around 250,000 casualties, with an equal number of wounded and dead for the German army.
The British high command had wrongly thought that their attack on 4 October had almost broken the enemy, so they rushed to capitalise on this by launching another attack on 9 October, just five days later. This meant battle preparations were rushed, and the artillery barrage – which had been executed successfully at Messines – was botched.
Read this audio story
General Godley's role at Passchendaele
"Well, the main criticisms of Godley at Passchendaele are that he did not know the conditions at the front, that his corps forces, especially heavy artillery, failed to provide the support necessary for a successful attack and that he, apparently, maintained that there should be no postponement of the planned 9 October attack. While his artillery certainly failed to do its job on the New Zealand Division's front, especially by cutting the enemy's barbed wire, Godley was not responsible for the decision to attack at Passchendaele. His job as a general was to achieve the objectives of those above him (namely Plumer and Haig), even if necessary taking actions that, in hindsight, appear to be hard-hearted. Failure to carry out his orders would have led to his immediate replacement by someone else. In urging no postponement of the 9 October attack, he was moved by the belief that any delays would allow the enemy, then believed to be in a state of disarray, to regroup, thereby making a delayed attack even more costly."
On top of this, pouring rain turned the battlefield to mud, drastically hindering the troops' advancement. The attack did not gain enough ground, and failed to destroy the numerous German wire defences, pillboxes and machine-gun nests.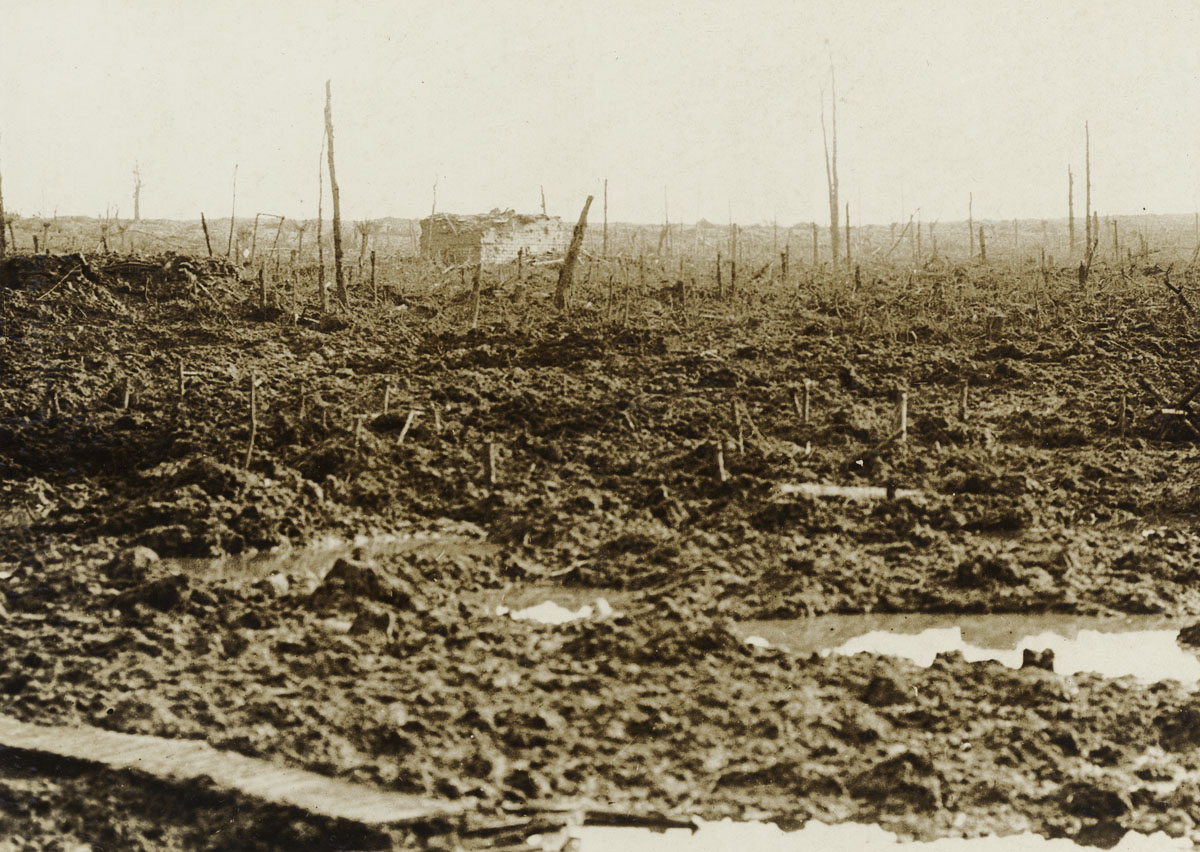 The battlefield at Remus Wood, Belgium. Among the mud and shattered trees is a German pillbox that withstood the artillery bombardment. To the left of the photo, out of sight, is a sunken area full of German dead.
Credits
Alexander Turnbull Library, Wellington. Ref:PAColl-1547-04-1/217. http://natlib.govt.nz/records/23014688
The British commander, Field Marshal Douglas Haig, wanted to take the town of Passchendaele so that more strategically important high ground could then be captured. Haig hoped this would allow the Allies to mount further attacks on vital German railway lines and ultimately threaten German U-boat bases further north along the coast.
However, in October 1917 the Germans had recently changed their defensive positions from standard frontline and secondline trenches to a more 'elastic' defence. They used a series of reinforced concrete bunkers or pillboxes, surrounded by wire entanglements. Improvised machine-gun nests and sniper positions were created in craters and near bunkers. Counterattack units, or Eingreif troops, were positioned nearby to repel the attackers.
To counter this, the Allies developed new artillery and infantry tactics. Haig allowed for coordinated and smaller attacks to take place along the German lines. Small teams of men, each led by an NCO – a corporal, lance corporal or sergeant – would advance before a creeping artillery barrage - which would, if accurate, destroy German wire entanglements, and force the German soldiers to take cover.
These teams would then assault the German bunkers and machine-gun nests one-by-one, with guns and grenades. The aim of these attacks was to seize limited objectives, and consolidate the new positions so that they could quickly repel a German counter attack and survive counter artillery. While these tactics had worked for the Allies at Messines, the deteriorating weather conditions, and the weak and ineffectual artillery barrage at Passchendaele meant that the attack was a complete failure.