While bloody fighting raged on land, a different kind of battle took place at sea.
During the First World War, Britain and Germany both relied heavily on imports to feed their people at home, as well as to supply their war. Most goods came across the Atlantic Ocean from North and South America.
Britain's naval power was superior and it used this to its advantage. The Royal Navy closed the English Channel and the North Sea between Scotland and Norway to any German-bound ships, by using underwater mines and regular sea patrols.
Read this audio story
Effects of the naval blockade on Germany
"The British naval blockade that was imposed in 1914 cut off Germany and its allies from the raw materials and foodstuffs that had hitherto been imported by sea. By 1918 this slow naval strangulation was beginning to have a significant effect on the population in Germany. Its impact on operations at the front was considerable, with fuel supply, for example, becoming a serious issue. But more important, the tribulations of their relations at home, especially food shortages, undermined the morale of the German soldiers at the front. The unrest would culminate in mutiny and political upheaval, which led to the Kaiser going into exile in Holland shortly before the Armistice."
While German submarines were a risk to British-bound ships, Britain was able to overcome this with variety of strategies, including, starting from 1917, using a convoy system for their merchant ships.
As the Germans launched their Spring Offensive in March and April 1918 – a last ditch effort to win the war – the Allied naval blockade really started to bite. German factories could not receive the materials they needed to manufacture the enormous number of weapons that their offensive required.
The British, however, still had their maritime trade routes and their supplies continued to flow in as needed. In the Battle of the Canal du Nord at the end of September 1918, British artillery famously fired almost 63,000 tons of ammunition in only three days.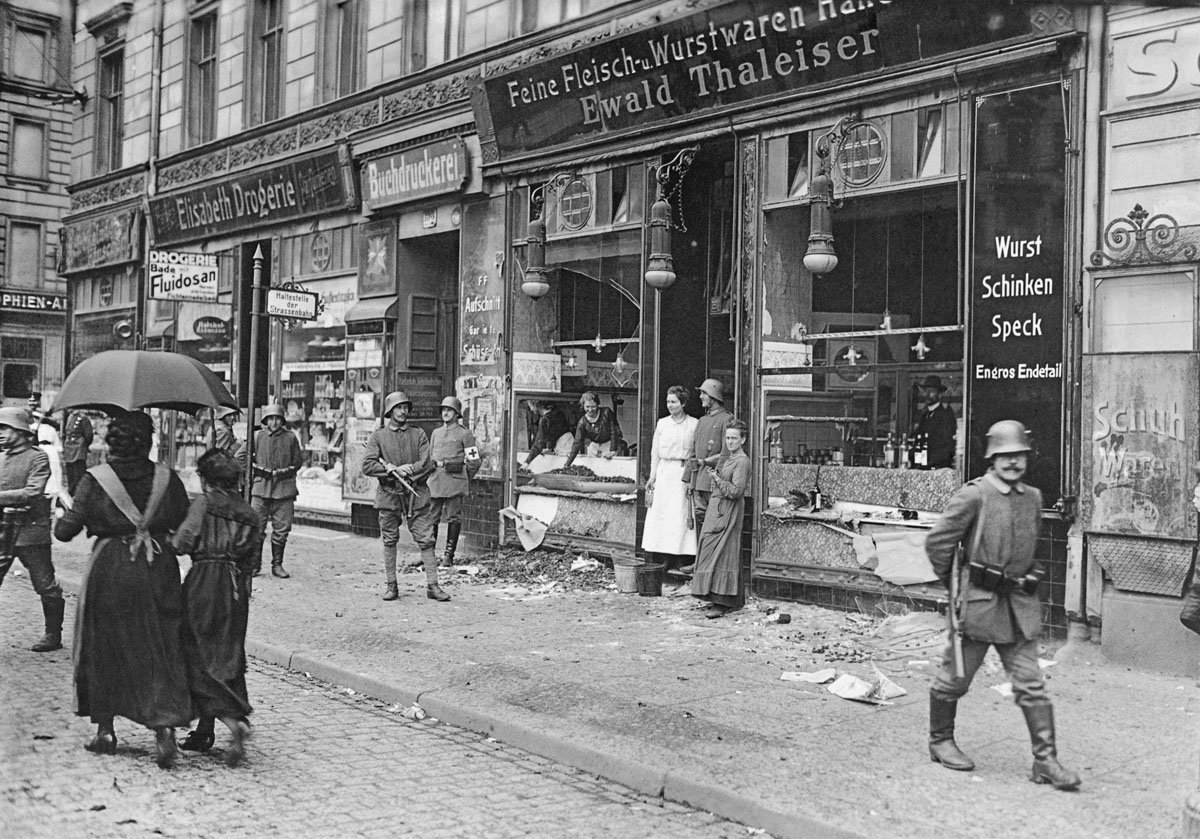 Armed soldiers stand guard outside a delicatessen that has been plundered. Invalidenstrasse, Berlin, 1918.
Credits
© Imperial War Museums (Q 110881)
The Allied economic blockade also affected German civilians at home, who began to riot for food. In 1916, a German mother wrote to her soldier son,
'In the Frankfurterstrasse, they broke the windows of three shops and carried off everything. In the suburbs, they smashed in the doors and windows with stones, and cleared out all there was in the shops. People gathered in thousands, shouting and yelling. About a hundred policemen and as many mounted men stood by looking on, entirely helpless before such a crowd.'
The blockades, in combination with growing Allied military might in the final months of the war, finally brought about the defeat of German forces in Belgium and France.
The blockades continued after the armistice, contributing to ongoing social and political unrest in Germany.