The armistice was signed on 11 November 1918, and under its conditions, Germany had 14 days to evacuate from all remaining occupied territory – as well as from German territory claimed by France and Belgium. The Allies quickly sent their armies to occupy the Rhineland and ensure that Germany would not break the ceasefire.
Most of the New Zealand Division were billeted at Beauvois and Fontaine when they heard news of the armistice. On 28 November, they began a 240-kilometre march towards trains that would then take them to the German town of Cologne. There, they would become part of the Allied occupation force, ensuring there were no uprisings.
Read this audio story
Leslie Marfell's story
"So we got to Germany in Christmas morning and we were in the marshalling yards I suppose on one of the stations and the back yard of some homes were just over the fence from where we were and of course we had the door open on that side of course and one of the lads said 'Merry Christmas' and a male came to the door on the veranda and he says 'Merry Christmas to you' and he replies in a slow voice 'Merry Christmas to you!' much to our surprise and somebody said 'Have you got a turkey for dinner?' He says 'No, but I've got a rabbit,' and by jove they were short of food. To have a rabbit I think it was... the Germans were very, very short of food."
The Maori Pioneer Battalion also marched to the border near Cologne, but at the last minute, the British authorities decided they should not be part of the occupation force, and sent them home. Amongst the men of the Maori Battallion there was a mixture of resentment and relief.
Some of the soldiers who did occupy Cologne described the experience of arriving there. Private Neil Ingram wrote, 'As we marched through the city of Cologne I was struck with the fine appearance of the place. Great wide streets, beautiful avenues of trees and fine big buildings of elaborate architecture. I often wondered, during our march, how the Germans would receive us when we eventually appeared marching through their streets, led by playing bands. Well! Strangely, I thought, they seemed to completely ignore us. Some glanced gravely or casually at our marching khaki column and others simply didn't glance at all.'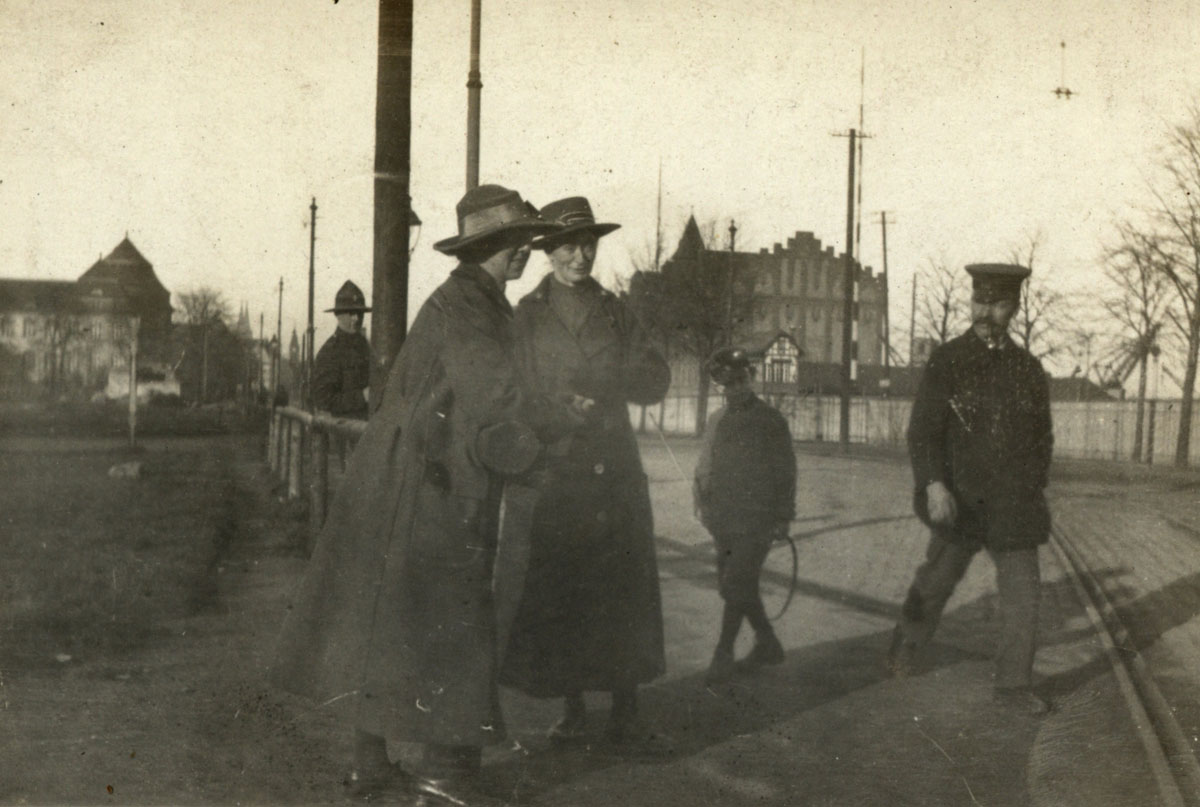 Two British nurses sightseeing in Cologne, Germany, while locals and a New Zealand soldier look on.
Credits
1990.1715, National Army Museum,NZ http://nam.recollect.co.nz/nodes/view/2041
Later, soldiers stationed in Cologne reported that the German inhabitants were mostly friendly and civil towards them.
Many of those who occupied Cologne stayed only a few weeks. In late December, New Zealand soldiers who had volunteered in the early years of the war (1914-15) and soldiers who were married, were sent back to England and from there to New Zealand.
On 25 March 1919 the last draft of New Zealand soldiers left Cologne.