The New Zealand Division was stationed in Armentières from May to August 1916. On arrival in France, they were given gas masks, and then at Armentières, steel helmets. It signalled that this was going to be a very different style of trench warfare to that which they had experienced in Gallipoli.
At first, Armentières was considered to be a 'nursery' sector – a place where fighting was comparatively light, and soldiers had time to acclimatise to the Western Front.
Soldier Cecil Malthus wrote,
'Inevitably the old hands amongst us compared our lot with the life they had known on Gallipoli, and found in the comparison every reason for contentment. On the peninsula we had been racked with dysentery, scarlet fever, jaundice and what have you … In France there was practically no sickness.'
However, this soon became a more brutal training ground than expected.
The trenches they occupied stretched from the east to south-east of Armentières, and were in a bad state. Armentières had a high water table, so these trenches were damp and needed constant maintenance. They couldn't be dug too deep, and sandbags were stacked up inside them to give extra height to their walls.
In the three months that they were here, the New Zealanders suffered 2,500 casualties and 375 deaths. They launched eleven raids on enemy trenches and countered four German raids.
Read this audio story
Joseph Dwyer's story
"I remember one occasion on the garrison trenches like in Fleurbaix along there there was a lot of wire entanglements on both sides. Well this fellow and his mate, they went out the night before with wire cutters, one would hold the wires and cut a gap in the German wire and the next night the raiding party went through there and did a lot of damage."
Raiding had several purposes: it distracted enemy attention from areas where larger attacks were planned; it allowed enemy soldiers to be captured and interrogated for important information; and it stopped the enemy thinning their line to transfer soldiers to more strategically important areas. It was also a good way to undermine enemy morale while maintaining aggression among Allied troops.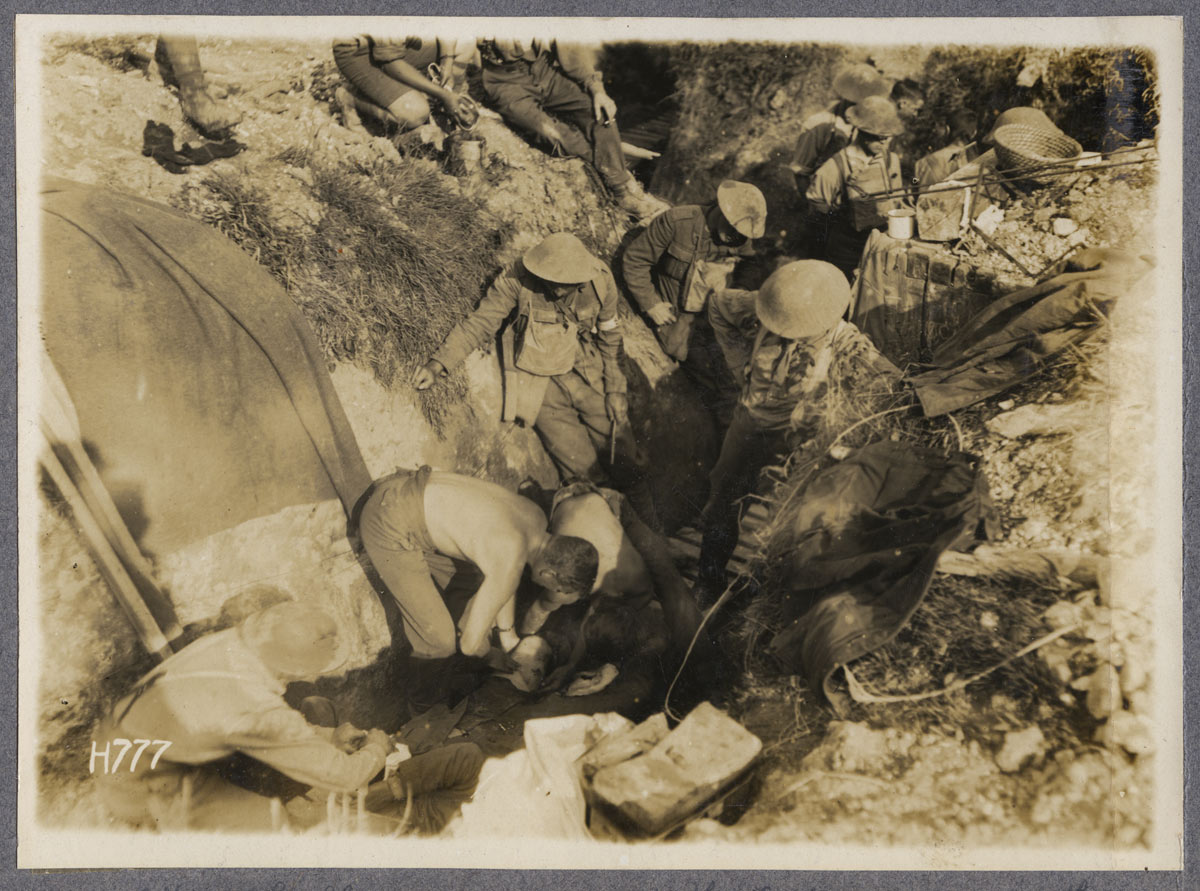 A doctor stripped to the waist bandaging a wounded New Zealand soldier after a highly successful raid, Gommecourt, July 1918.
Credits
PH-ALB-419-H777, Auckland War Memorial Museum, Tāmaki Paenga Hira
Raids were often practised in advance, and covering parties went out first to provide flank protection, while scouts went across to check the area being raided.
In the lead-up to a raid, an artillery bombardment would typically isolate the area to be raided, neutralise some of its weapons, and then provide some cover for the raiding party. The members of the party (anything from a dozen to a few hundred) would blacken their faces and hands, often with boot polish, and – taking only weapons, ammunition, and grenades – leave their own trench and swiftly cross no-man's-land to the enemy trench to kill men, take any prisoners they could, and steal items of value. Engineers would often lay explosives before leaving. The raiding party was usually there for little more than 10 minutes before running back to their line.
Raids by both sides were conducted in a similar way and could lead to counter-raids.
A successful raid boosted morale, but there were also failures. In mid-July 1916, the Otago Regiment staged a disastrous raid from their part of the Armentières line, which resulted in 54 of their number killed and 104 wounded.
Credits
Joseph Dwyer, interview by Jane Tolerton and Nicholas Boyack 17 August 1988, OHInt-0006/61, World War 1 Oral History Archive, Alexander Turnbull Library, Wellington, NZ.