Getting to Gallipoli
Driving yourself in a rental car is the most flexible way to explore Gallipoli, but some people prefer to take buses, taxis or group tours.
Suggested driving route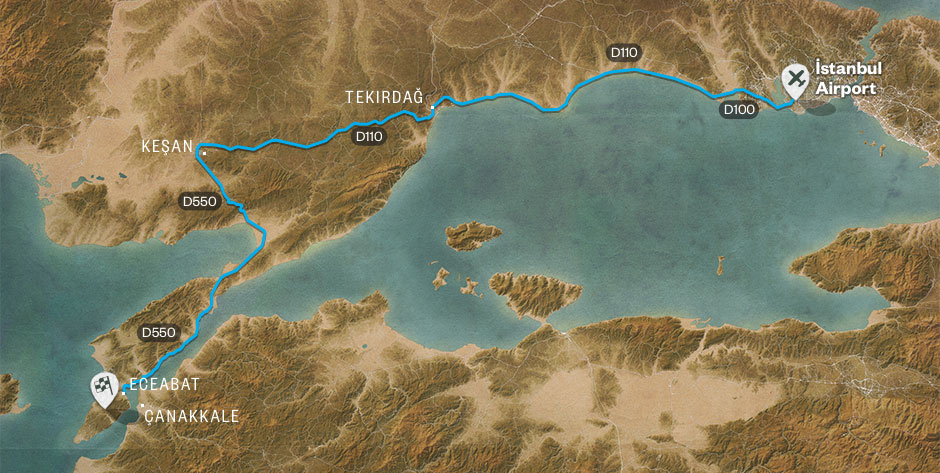 Options for getting around Turkey
Car
Turkey has excellent roads, and with Eceabat and the Gallipoli peninsula only five hours drive from Istanbul, driving is a good option to see Gallipoli and other parts of Turkey. All of the major international car rental companies, as well as a number of local ones, have offices at airports and all major centres. To drive in Turkey you will need an international driving licence.
Driving times to/from Çanakkale
Istanbul - 5.5 hours (including ferry)
Troy - 40 minutes
Pamukkale - 8.5 hours
Izmir - 6 hours
Cappadocia - 14 hours
Bus
Eceabat has buses that serve the villages surrounding Gallipoli, including Gaba Tepe. It's possible to take one of these buses and then tour the peninsula on foot. However, be aware that this takes plenty of planning and there is a significant amount of walking involved.
There are taxis available from Eceabat, but this is an extremely expensive way to see Gallipoli.
Flight
There are a number of airlines in Turkey offering affordable domestic flights. Many of these flights go via Istanbul. Çanakkale also has a small airport – and around Anzac Day is one of its busiest times of year.
Group tours
If you haven't pre-booked a tour, the best option is to link up with a tour through local hotels in Eceabat.