The Gallipoli peninsula is hot and dry, especially in summer when temperatures can reach over 35°C. When the Anzac troops first arrived on 25 April 1915, there was no obvious water supply. During the early part of the campaign, they had to import their water by barge from the nearby Greek islands.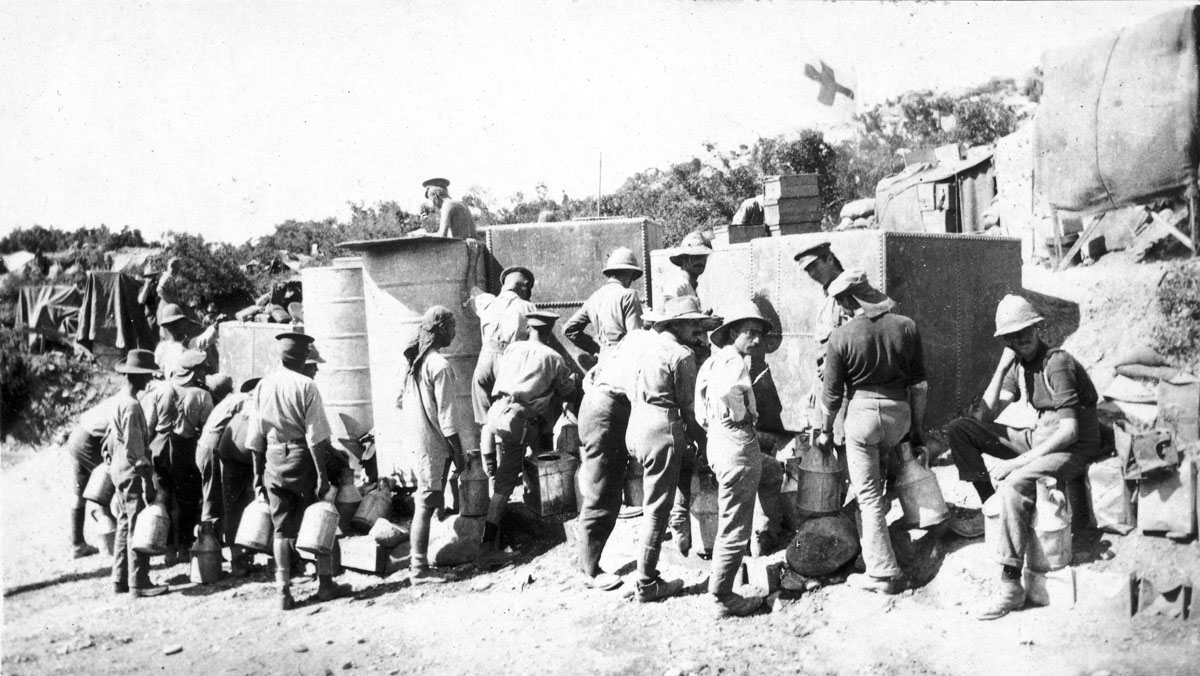 Soldiers carrying large cans standing beside water tanks at the foot of Walker's Ridge, July 1915.
Credits
Soldiers and water tanks at the foot of Walker's Ridge, Gallipoli, Turkey. Powles family :Photographs. Ref: PA1-o-811-20-1. Alexander Turnbull Library, Wellington, New Zealand. http://natlib.govt.nz/records/22833095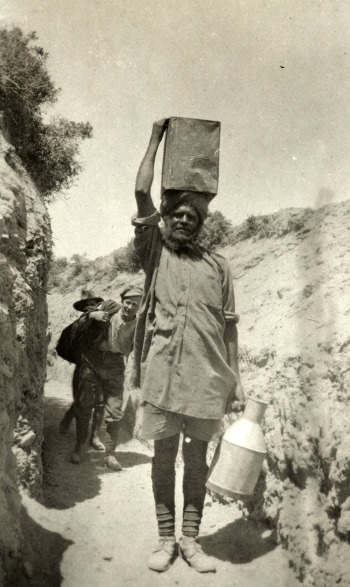 Water became extremely precious. As New Zealand soldiers made their way inland, they had to be very careful about conserving water. 'Several men asked "May we have a drink of water, Sir,"' wrote Lieutenant Spencer Westmacott of the Auckland Infantry Battalion about his first day at Gallipoli, 'to which I replied "No water may be touched till evening and then not without permission. It may have to last three days."'
Once the Anzac soldiers had dug in, obtaining and distributing water was a major challenge. Soldiers would have to climb up the steep hills of Gallipoli, in the heat of the sun with kerosene tins full of water slung over their shoulders, all the time trying to dodge bullets and shells. If bullets or shrapnel hit the tins, the soldier would have to go back down and start again. 'I think everyone was who was at Anzac,' wrote Second Lieutenant Charles Saunders of the New Zealand Engineers, 'will agree with me that the hardest fighting done there was by the water and rations fatigue.'
Water was strictly rationed, so the thirsty men made the most of what little extra water they could obtain. 'I managed to get half a mess tin of water after tea last Sunday,' wrote a soldier, 'so I made a fire, warmed it, cleaned my teeth, had a shave, had a bath, then tried to wash my towel with the water that was left.'
'After I had finished the water in my mess tin it was muddy,' wrote another, 'and I washed my face in that and then had my tea out of the same tin.'
Read this audio story
John Skinner's story
"Water was always scare. The water we got was all brought from Egypt. We were lucky if we got a water-bottle-full to last a day, to wash in, to wash your clothes in, and anything else, or drink. And that was every day."
Because it was so difficult to bring in water, the Allies built water condensers, which turned salt water into fresh. The remains of their collapsed concrete foundations can still be seen at Anzac Cove today.
Another problem with water was distribution. Because taking the water up the steep hills was difficult and dangerous, large water tanks were set up on high ground. Lifting the tanks up took the massive efforts of hundreds of men. A steam engine was brought in to pump the water up to the large tanks up high, so that the water could flow downwards to various parts of the Anzac settlement. However, once the steam engine was set up, it was found to be not powerful enough.
At the same time, engineers looked for wells from which they could draw fresh water. They eventually found some useable wells along North Beach beyond Anzac Cove, but these wells did not contain enough water to provide for the over 20,000 soldiers who eventually lived at Anzac Cove, so water remained scarce and precious.
Credits
Image: A soldier of the Indian Labour Corps carries a water zur (jug) in his hand and an Army tin of biscuits on his head along a sap trench with two New Zealand soldiers following. National Army Museum, NZ 1992.742 http://nam.recollect.co.nz/nodes/view/4268
Audio: Sgt. John Skinner, 1999.3032-1B, National Army Museum, NZ.