Where to stay
You're likely to start at the vibrant metropolis of Istanbul. After that, you can choose your base. Quiet, friendly Eceabat? Or bustling, cultured Çanakkale?
Çanakkale
Çanakkale is a busy harbour city, with a thriving nightlife and a high student population. Most facilities are clustered around the waterfront and docks – including hotels, licensed restaurants, ATMs, public phones, banks, bus offices and the tourist office. A Turkish airlines shuttle-bus goes to central Çanakkale from the Istanbul Airport around three times a day. It is also possible to get a taxi, which costs slightly more.
Tips
Çanakkale gets crowded on weekends, as a lot of Turkish people spend time off here.
Many clubs and bars are concentrated around Matbaa and Fetvane Sokaks.
See www.canakkale.com.tr for more information.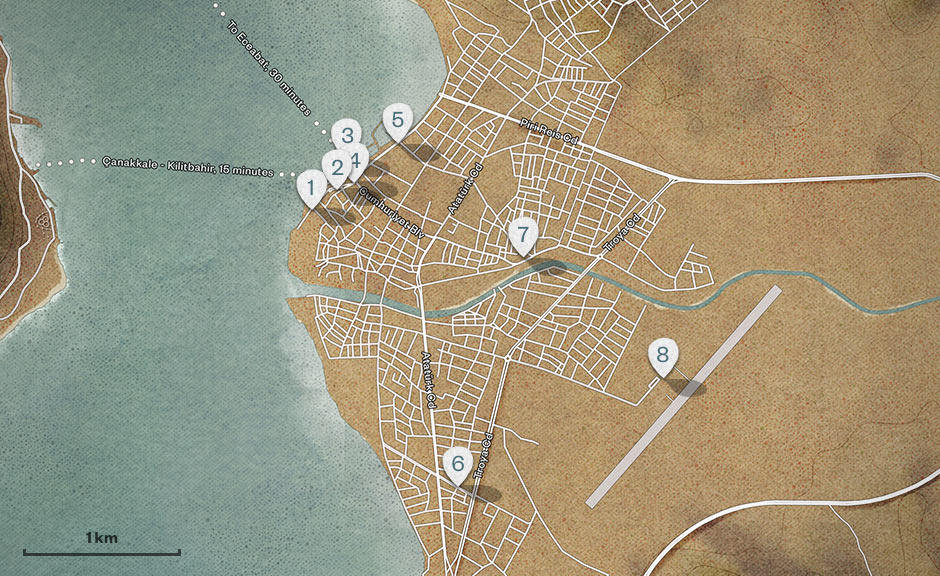 1 Naval Museum
Walk around the guns and cannons in the park outside, then explore the Gallipoli exhibits inside the museum.

Cimenlik Sokak.

Open 9am - 5pm, every day except Monday and Thursday.
2 Clock tower
Built in 1897, this historical Ottoman clock tower is an impressive landmark, five storeys high, near the harbour.
3 Ferry terminal
Ferries cross the Dardanelles between Eceabat and Çanakkale every hour.
4 Çanakkale Tourism Information Office
Here you can find schedules of the minibuses and ferries. The office also provides a free tourist map of Çanakkale and the surrounding areas.
5 Trojan horse
This large model on the waterfront promenade is from the 2004 movie Troy. Beneath it are highly informative displays about the ancient city itself.

Open all the time.
6 Archaeology Museum
Also known as the Çanakkale museum, it contains relics from Troy and other ancient areas nearby.

100-Yil Caddesi.

Open 8am – 5pm every day.
7 Chanak Consular Cemetery
This cemetery contains graves from 1860 to 1965. It is kept locked at all times and the key is kept at the CWGC Çanakkale Office 5 minutes away. Visitors should contact the Office beforehand to obtain the key. Wheelchair access is possible via main entrance.

For further information see http://www.cwgc.org/
8 Çanakkale airport
This small domestic airport provides regular flights to/from Istanbul and Ankara.