At the time of evacuation, many New Zealand soldiers did not want to leave their dead mates on Gallipoli. They visited the graves of fallen comrades for the last time, erecting new headstones and markers. George Tuck of the Auckland Battalion wrote of the evacuation 'I am no hero but I would sooner go over the ridge in frontal assault with all its chances of death with honour than do this thing.'
In December 1915, Lieutenant-General Godley wrote a letter to the Turkish officer commanding the Ari Burnu sector about respecting the remains of Allied troops buried at Anzac. He asked that their graves be respected by the Turkish troops and reminded him that 'they have fallen far from home, fighting gallantly in their country's cause' and that Turkish soldiers 'should take special care of their resting place.'
Read this audio story
George Skerrett's story
"You know, when I came back here, when I came back home here to New Zealand there was a review – or I can't think of what paper it was, or was it in the Times, I'm not sure, but there was a notice from the Ayling family wanting to know if anyone would know anything about Frank Ayling. Now I saw Frank Ayling's grave. It was buried by the Australians, right in front of Quinn's Post. I've always regretted not answering that. I didn't answer it, I don't know why I didn't do it, but I just didn't. I've always regretted that."
In December 1918, after the war had ended, members of the Canterbury Mounted Rifles Regiment and the Australian 7th Light Horse Regiment returned to Gallipoli as part of an Allied occupation force. They reported on whether the Turks were carrying out the terms of the Armistice signed with the Allies on 30 October 1918.
These Anzac soldiers visited battle sites, searching for graves and missing comrades. They cleared and recorded gravesites, and tried to identify skeletons and collect bones for burial. 'The spirit of true comradeship towards the dead shows itself in a wonderful and beautiful manner,' wrote Ernest Peacock, Balkans correspondent for the Combined Cable Services. 'It is impossible to describe or to do justice to the tender, reverent, care with which each particle was gathered together, a grave dug, and the whole buried in quiet impressive solemnity.'
The wintery conditions on Gallipoli caused sickness amongst some of the occupying soldiers, with 11 dying of influenza. The New Zealanders and Australians in the occupation force returned to Egypt in January 1919
Shortly after the October 1918 Armistice with the Ottoman Empire, British and Dominion Graves Registration units of the Imperial War Graves Commission (now the Commonwealth War Graves Commission) landed on Gallipoli and began building permanent cemeteries. At Anzac, a small group of Australians and New Zealanders carried out work.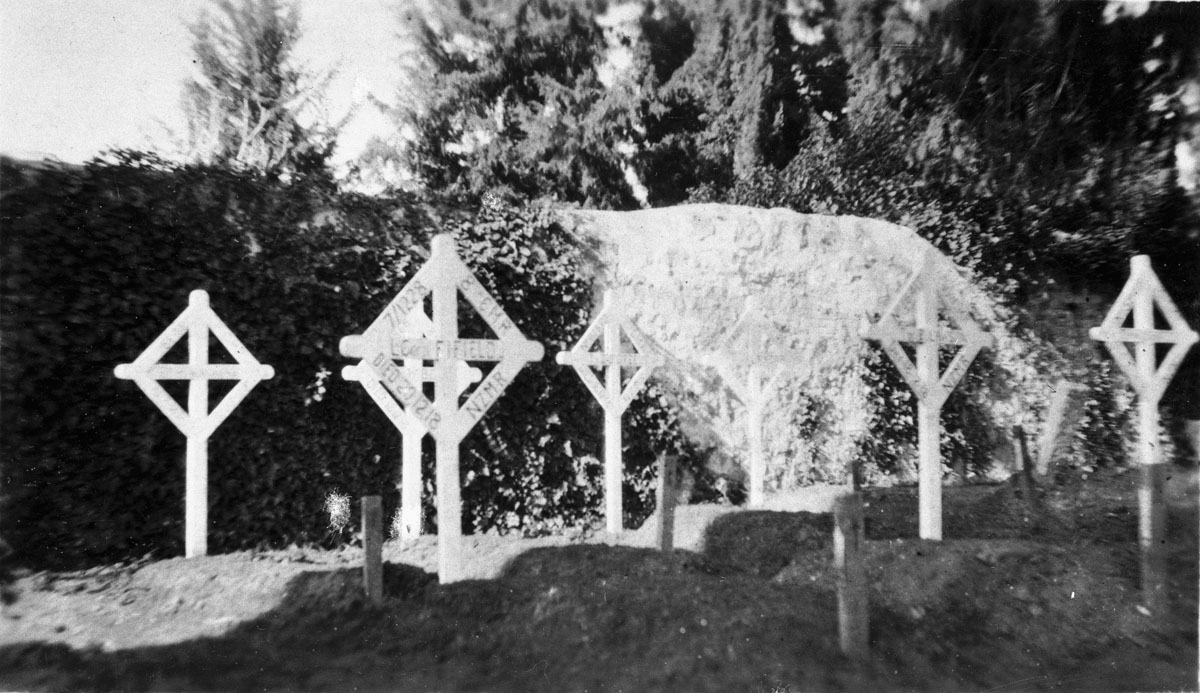 British cemetery at Canakkale, Turkey, with graves of the Canterbury Mounteds who died of Spanish influenza after their return to Turkey in December, 1918
Credits
British cemetery, Canakkale, Turkey. Field-Dodgson, Ernest Robert, 1926-1999 :World War I photograph albums compiled by trooper C L Crowley. Ref: PA1-o-169-27-3. Alexander Turnbull Library, Wellington, New Zealand. http://natlib.govt.nz/records/23234370
The Registration Unit was responsible for finding remains and placing them in central cemeteries, erecting temporary wooden crosses, and registering each grave. In preparation for building the permanent cemeteries, the Imperial War Graves Commission had to make roads, build headquarters and survey cemetery sites.
Because the Allies had withdrawn from Gallipoli and did not return until three years later, it was difficult to identify specific individuals. Many cemeteries have hundreds of men buried in them, but there are very few headstones.
'Special memorials', in the same form as headstones, are provided for men who, after tireless investigations carried out after the war, are known or believed to be buried in particular cemeteries among the unidentified. There are also memorials to the missing, recording the names of all soldiers with no known grave. New Zealand contributed to the construction of the imperial Helles Memorial at Cape Helles, and built a battlefield memorial on Chunuk Bair during the 1920s.
Credits
Audio: Lce-Cpl George Skerrett, National Army Museum, 1999.2901-1A