After the exhausting August offensive, the New Zealand brigades were sent to the Greek island of Lemnos to rest and reorganise. They returned to Anzac in early November. Even though they had received some fresh reinforcements from Egypt, every unit was below strength and the men's health remained poor.
The onset of winter did not help their weakened condition and frostbite and hypothermia became rife as cold rain, icy wind and snow lashed the peninsula. At the end of November, a huge storm flooded trenches and caused many deaths among exposed Allied troops.
The deteriorating conditions, as well as the increasing strength of Ottoman forces, finally convinced the British, on 22 November 1915, to order the evacuation of Suvla and Anzac. In contrast to the shambolic landings of 25 April, the planning for evacuation moved quickly and efficiently.
Read this audio story
Joe Gasparich's story
"And at ten past two I got down off that step (fire step), and I walked through the trench to go down to the rendezvous. There wasn't one man left in it. I was the last out of the trench. And as I walked down my footsteps echoed because the ground was so hard. You see, there had been a frost – we'd had a blizzard earlier, we had rain, and the ground was wet and then it froze."
To ensure security, the troops were told their units were heading to Lemnos for a rest. But as stores disappeared, rumours of evacuation were widespread. James McWhirter of the Auckland Battalion wrote that 'fine weather & secrecy were required for our success. How secrecy was kept was a mystery to us all, as the fact was known for some time previous, & yet as events transpired, it is almost certain the enemy never had an inkling of what our next move was going to be. …'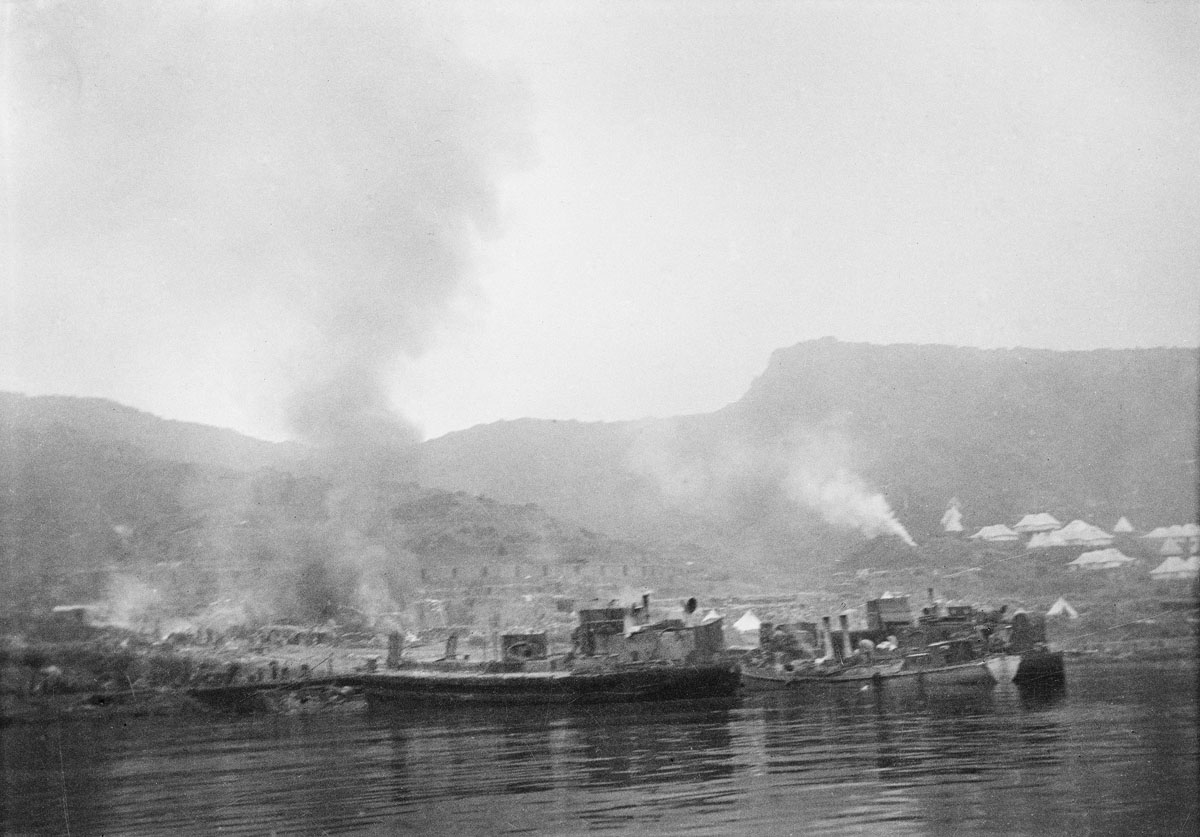 The smouldering remains of a fire about midday which broke out in the supply dump at North Beach between 1 a.m. and 2 a.m., the day before the final evacuation.
Credits
Australian War Memorial G01302 http://www.awm.gov.au/collection/G01302/
On 15 December 1915, the evacuation of Anzac began. 36,000 Allied troops were shipped out over four nights. Support troops and reserves departed first and fighting units were thinned out until by 19 December, only 10,000 men remained. In a coordinated withdrawal from the front-line trenches, the last men left Anzac Cove at 4.10 a.m. on 20 December.
The departure was emotional for many New Zealand troops. Not only did it mean that the campaign was a failure, but that the soldiers would be leaving their dead mates behind. Edwin McKay, of the Auckland Mounted Rifles described the emotion of the departure. 'We moved slowly and noiselessly away from the grave of all our hopes; hopes so nearly realised by the selfless valour of those who had gone there before us. I stood on deck, looking back with mixed feelings at the broken skyline... Someone said, "we won those ridges then we lost them, and now we're leaving our cobbers behind. It's damnable."' Troops at Suvla evacuated the same night, but British and French forces remained at Helles until early January 1916.
Some of the allied ammunition wagons abandoned during the evacuation of Gallipoli, December 1915, parked by the Turks at Ari Burnu.
Credits
Australian War Memorial C03208 http://www.awm.gov.au/collection/C03208/
New Zealand troops went into camp on Lemnos for a few days and, after Christmas, returned to Egypt. The Mounted Rifles Brigade returned to Zeitoun Camp, and nearly everyone else settled at the new Moascar Camp, near Ismailia and the Suez Canal.
The New Zealand Expeditionary Force changed into a wholly New Zealand Division while the Australian and New Zealand Army Corps expanded into two new corps – I Anzac Corps (all Australian) and II Anzac Corps (New Zealand Division and two Australian divisions) under the command of Lieutenant-General Sir Alexander Godley. Major-General Sir Andrew Russell was put in charge of the New Zealand Division. I and II Anzac Corps were sent to the Western Front, and the New Zealand Division left Port Said at Alexandria for France in early April 1916. For Gallipoli veterans, there was still a lot of fighting ahead.
Credits
Audio:
Sgt. Joe Gasparich, National Army Museum, 1999.2935-2A